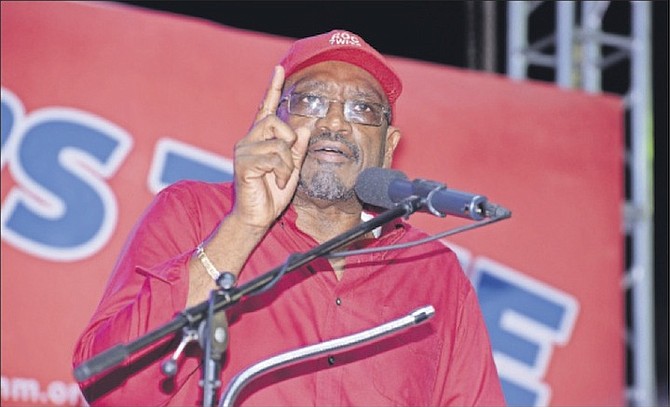 By RICARDO WELLS
Tribune Staff Reporter
rwells@tribunemedia.net
FREE National Movement (FNM) Leader Dr Hubert Minnis last evening bashed Prime Minister Perry Christie for his level of representation in the Centreville constituency over the past 40 years, while stressing that the government is "running scared" of the FNM's "change team".
He also spoke to the reported irregularities in the Parliamentary Registration Department's 2017 voter register, warning the government that 2017 "is not like 1987."
"They stole it (an election) in 1987 but they will not 'tief' it in 2017," he said, as he predicted a general election date of May 2.

Addressing supporters during the FNM's regional candidates launch at Christie Park, Dr Minnis also insisted that the level of care shown to Centreville was in line with the level of care the governing PLP has shown the entire Bahamas.
"The PLP lacks compassion," said Dr Minnis.
"They don't care about our health or our lives. That's why they covered up the Rubis spill. It's why they let the dump get out of control. It is why they haven't built a single school in five years. That's why FNMs they haven't finished hospitals in Grand Bahama and the Family Islands.
"The PLP made the problems at BEC worse by bringing in a company that made a complete mess of things. An uncaring PLP put VAT on breadbasket items, making things worse for poor people.
"The FNM will remove VAT off breadbasket items. Your FNM government would not tolerate wastage. You would be able to see and touch where the VAT money will go."
Dr Minnis said the FNM's slate of candidates has the PLP afraid of losing the next election.
He said Mr Christie is on the ground campaigning with an entourage of 40 people, adding that many residents have told him they have not seen the nation's leader for years.
"He is very scared that he will lose his seat. I have news for you: Christie will lose Centreville."
"He will be the first sitting prime minister who will be kicked out of his constituency.
"They had a rally in the classroom the other day, they are afraid to have a rally outside so they called it (a) constituency meeting. They had great difficulty even filling the classroom.
"Scores of PLPs have decided to vote FNM. Even much of the PLP base can't take five more years of Perry Christie.
"We can't take five more years of VAT money going missing. We can't take five more years of record unemployment. We can't take five more years of the PLP risking our health and lives because of their neglect at Rubis, at the dump, and at Clifton. We can't take five more years of mass corruption . . . We can't take five more years of Christie diving for conch (falling asleep) day and night."
The Killarney MP also used his remarks Thursday to address the government use of law enforcement agencies and the justice system to create a "police state".
"I remind the PLP that this is a democracy; not a police state. I believe that musicians should refrain from making remarks about the lives of the families of politicians. But bad taste and offensive language doesn't mean that the police should come knocking at your door," said Dr Minnis.
"If the PLP wins again, we will go back to the victimising days of the Pindling era when the government tried to intimidate anyone who criticised them. The PLP doesn't believe in democracy.
"That's why Christie absolutely ignored the results of the gambling referendum. In today's PLP, if you want your court case dismissed, just be a former client of the attorney general so you can get a nolle to make your case disappear."
Tax reform
Dr Minnis also spoke of his party's regularly touted tax plans, announcing three major initiatives aimed at alleviating tax burdens on inner city communities, pensioners and potential entrepreneurs if elected to office.
Dr Minnis said his party, once elected, would look to launch a programme of further real property tax discounts and rebates for all pensioners over 65 who pay property tax and qualify for the plan.
The Killarney MP specified that the proposed programme would apply to the primary residence of the approved homeowners.
Additionally, Dr Minnis said a government led by him would instate a programme of "far-reaching" and "targeted" tax initiatives geared toward stimulating businesses throughout inner-city communities.
On his tax plans, Dr Minnis said: "We will help the people in the inner city to invest in their own communities by using the tax code to spur jobs, economic activity and investment."
He continued: "Within this inner-city tax-free zone, there will be no import duties on construction materials for residential and commercial buildings; no real property tax or business licence fees; no taxes on household furniture within the inner-city; no taxes on business equipment after proper vetting and finally reduced duty on special vehicles necessary for your businesses."
Further to these two initiatives, Dr Minnis said his party would look to create a Council of Economic Advisors.
According to the former minister of health, the mission of this council would be to offer the "best advice on economic growth and development" to perspective entrepreneurs.
Of the initiative, Dr Minnis said: "No government has all the answers. We need the ideas, creativity, experience and wisdom of a broad cross-section of Bahamians and residents to help spur growth and boost our economy."
He furthered: "One of the tasks of the Council of Advisers is to help develop concrete ideas for diversification within tourism, our main industry, and diversification throughout the economy.
"We must urgently boost growth and GDP for broad scale economic development and in the interest of boosting government revenue. The government has become too reliant on certain taxes as a first resort as a source of revenue.
"Economic growth will help to stabilise government finances."
Dr Minnis said in order to create economic growth, cut energy costs and address environmental concerns, the FNM, if elected, would also look to launch a national solarisation programme that will help many thousands of consumers to cut their electricity costs and cut the country's fuel import bill.
Last evening's event was the FNMs official regional launch of Free Town candidate Dionisio D'Aguilar, Centreville candidate Reece Chipman, Bain and Grants Town candidate Travis Robinson, St Barnabas candidate Shanendon Cartwright and Englerston candidate Raymond Rolle.