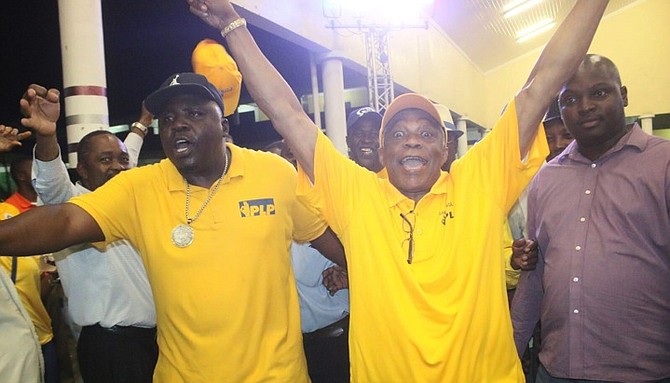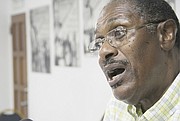 By KHRISNA VIRGIL
Deputy Chief Reporter
kvirgil@tribunemedia.net
PROGRESSIVE Liberal Party (PLP) Chairman Bradley Roberts was on the defensive yesterday when he was asked about his party's relationship with self-proclaimed "gang members" Wisler "Bobo" Davilma and Livingston "Toggie" Bullard.
The men, who are at the heart of an alleged murder plot against billionaire Louis Bacon and lawyer Fred Smith, QC and were allegedly hired by Canadian fashion mogul Peter Nygard to engage in criminal activities, attended the PLP's joint constituency meeting at the T G Glover Primary School on Tuesday night.
Contacted yesterday, Mr Roberts suggested that he did not know the men were at the event and said despite Davilma being outfitted in a PLP shirt and pictured alongside National Security Minister Dr Bernard Nottage, it did not mean that he had ties to the governing party.
However he insisted that The Tribune contact Dr Nottage for further questions on this matter. Attempts to reach the Bain and Grants Town MP were not successful up to press time.
Mr Roberts said: "Were they (at the event)?" Asked if the men were affiliated with the PLP, he said: "I don't know. I don't know the fellas."
When his attention was drawn to a photograph on the front page of Thursday's Tribune of Mr Davilma and Dr Nottage, Mr Roberts said: "You could be dressed in (a PLP shirt) too and so could the Devil. They were out there and they passed them (shirts) around to people."
Meanwhile, Environment Minister Kenred Dorsett, as a guest on "The Real Deal" with host Ortland Bodie Jr,was asked about the men's attendance and suggested that they were apart of the PLP's "big tent".
He said: "The PLP is a big tent. We want everyone in there. But the bottom line is we are a big tent. We're here to represent the small man and the big man, the light skin man, the white man and black man. The PLP is a party for everybody."
This comes at a time when Mr Roberts has repeatedly attempted to implicate Free National Movement (FNM) Leader Dr Hubert Minnis as being connected to "Toggie" and "Bobo".
Earlier this year, Mr Roberts castigated Dr Minnis over his "silence" regarding FNM candidate for Marco City Michael Pintard, who resigned as chairman of the FNM and from the Senate over his involvement in the lawsuit against Mr Nygard on March 21, 2016. His resignation, he insisted, was not an admission of guilt.
On the same day that Mr Pintard stepped down from the posts, Dr Minnis admitted to The Tribune that he had met Bullard at his home.
Dr Minnis said Bullard, his constituent in Killarney whom he said he met three times, contacted him to pass on a warning to Mr Pintard that he was about to be allegedly "set up" by a high ranking member of government and others.
Dr Minnis was adamant that the two never discussed Mr Nygard, adding that he did not hear of the alleged murder-for-hire plot until The Tribune published claims in an affidavit filed on March 9, 2016 by directors of Save The Bays.
According to court documents, Davilma and Bullard have also claimed they have lucrative maintenance contracts with the Ministry of Works.