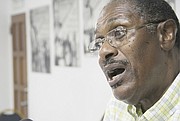 By KHRISNA VIRGIL
Deputy Chief Reporter
kvirgil@tribunemedia.net
PROGRESSIVE Liberal Party Chairman Bradley Roberts has castigated Free National Movement Leader Dr Hubert Minnis saying his "failed leadership" has led the party to select "bad and unfit" candidates to run for the impending 2017 general election.
Speaking to supporters at a rally in Grand Bahama on Friday, Mr Roberts alleged that FNM Golden Gates candidate Michael Foulkes was suspended from practising law in the United States.
However, when contacted yesterday FNM Chairman Sidney Collie said the claim was not true. He said Mr Foulkes had not been suspended. Attempts to reach Mr Foulkes up to press time were unsuccessful.
In reference to businessman Howard "Rickey" Mackey, the FNM's candidate for North Eleuthera, Mr Roberts said he would "drop some more bombshells" once the candidate nominated to run in the election.
Last month, Mr Roberts revealed during a campaign rally that Mr Mackey owed the Bahamas government thousands of dollars in customs duties which he committed in writing to pay, but did not.
Mr Mackey admitted to owing the government $9,500 and paid the money owed shortly after Mr Roberts made the allegation.
Meanwhile, Mr Roberts pointed to the opposition party's troubled past where MPs, senators, chairmen and candidates "abandoned" Dr Minnis.
Mr Roberts suggested that the infighting that once defined the FNM was a snapshot of how a Minnis led administration would operate.
He said: "The candidates selections of the FNM strikes at the foundation of the quality of any successful leader and that is the attribute of judgment. Minnis, I remind you, was ambushed and removed as the Official Opposition leader because of poor judgment."
Mr Roberts said both Mr Foulkes and Mr Mackey were "unfit" candidates. He said the picks were the result of "the flimsiest of vetting systems."
"Under his leadership (Dr Minnis), seven MPs, six senators and two national chairmen and three candidates abandoned him," Mr Roberts said on Friday at the PLP's headquarters in Grand Bahama. "Some said they lacked confidence in his leadership; some said he was dishonest and not a man of his word and therefore could not be trusted and some have called him corrupt.
"It is no secret that he struggled to keep his party together and I am advised that the infighting continues regardless of the amount of lipstick they try to put on that pig.
"How a leader of a political party leads and manages his party's affairs is a dress rehearsal for how he would lead a government. The verdict among Bahamians is that he is a failed leader.
"This brings me to Minnis' selected candidates. Howard 'Rickey' Mackey in North Eleuthera is a bad candidate and I will drop some more bombshells after he is nominated; another is their Golden Gates candidate Michael Augustine Foulkes suspension to practice law in the USA strongly conveys that he is an unfit candidate," he claimed.

Mr Roberts further hit out at the selection of Michael Pintard as the FNM's pick for Marco City. Mr Pintard resigned as chairman of the FNM and from the Senate over his involvement in investigations that led to a contentious lawsuit against Peter Nygard on March 21, 2016. Mr Pintard insisted that his resignation was not an admission of guilt.
Added Mr Roberts: "Michael Pintard is another bad and unfit candidate, we can see through Michael Pintard, it is inexplicable, disrespectful and arrogant that Michael Pintard could pass the flimsiest of vetting systems to become a candidate for high office. If Pintard was forced to resign in disgrace from the Senate and as FNM national chairman, then what makes him suitable for the House of Assembly?
"Can anyone tell me where is Pintard working? Who is providing him the monies he is throwing around and building a big new house I am told out of his pocket? Some say he is on the payroll of Save the Bays and loose lip Fred Smith. Something is stink in Denmark and it is not the cheese, ladies and gentlemen.
"When the FNM talks about it being 'the people's time' we know just who 'people' they mean," he added.
"And these people know how weak of a leader Minnis is. Brent Symonette and his boys, (Dionisio) D'Aguilar, Marvin Dames, Jeff Lloyd and others under the spell of (former Baha Mar developer) Sarkis (Izmirlian), and of course Save the Bays, have all said to themselves, if (Long Island MP) Loretta (Butler-Turner) could dislodge Minnis, so can they. Be careful Grand Bahama. A vote for Minnis and the FNM, is a vote for a nightmare waiting to happen," Mr Roberts said.