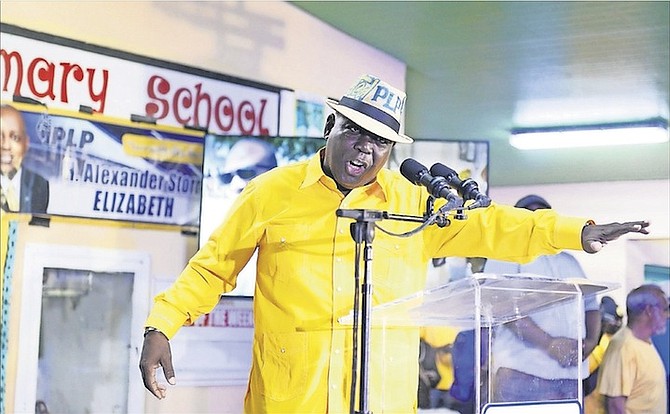 By SANCHESKA DORSETT
Tribune Staff Reporter
sdorsett@tribunemedia.net
DEPUTY Prime Minister Phillip "Brave" Davis yesterday predicted that the Progressive Liberal Party (PLP) will win 30 seats in the upcoming general election and the Free National Movement (FNM) will win nine.
In an interview on "Darold Miller Live", Mr Davis told the radio show's host the Bahamian people know it is too "risky" to put the country in the hands of the FNM and its leader Dr Hubert Minnis - who he described as incompetent.
Mr Davis also questioned whether Dr Minnis would remain leader of the FNM if he were to become successful in becoming the nation's leader.
"I see no reason why we shouldn't take 30 seats," Mr Davis said.
"We will hold all we have plus St Barnabas, that is my assessment. When you wake up the sleeping giant called the PLP and this machinery and when we get our message out, I think the Bahamian people will listen to us and see what we have done and appreciate it is too risky to interrupt where we are headed as a country and put it in the hands of who?
"Because I don't know and I don't know whether you can tell us, who are these FNMs who will be running the country if the FNM were to be elected?
"Dr Minnis himself has said that if he wins he will not take a portfolio so what does that mean in the scheme of governance? He was unable to keep his party together since becoming a leader; his group, the people who know him best don't think he is capable of leading, they think he is incompetent and they said that if he is elected the country will be a disaster under his leadership.
"Think about it, if he were elected, do you know whether he will remain the Prime Minister? Do you know that? He is leader of the FNM but not the leader of the (Official) Opposition. How did that occur?
"The issue is whether, if elected, could Dr Minnis maintain his position as the Prime Minister with regard to the challenges he has been having in his own party and having regard to what persons have said about him in his own party. They are lurking and waiting."
Mr Davis urged undecided voters to attend the PLP's upcoming rallies to give the government an opportunity to explain to them why voting for the governing party is the best decision.
He has been highly critical of Dr Minnis during this election cycle. Last week, he scolded Dr Minnis for being unable to "speak in Parliament" and chastised the Killarney MP for "hiding behind his Facebook page" out of fear that the public will know "Dr Minnis has no idea what he is talking about".
He said Dr Minnis did "nothing" while he was Cabinet minister in the last administration, "nothing" while he was in the Official Opposition and will continue to do nothing if he is elected to lead the country.
The PLP won 29 seats in the 2012 general election while the FNM won nine. The Democratic National Alliance, a third party, did not win any seats but captured about 10 per cent of the vote.
Three members of the PLP left the party during this term, with two - Bamboo Town MP Renward Wells and Fort Charlotte MP Dr Andre Rollins - joining the FNM.
Marco City MP Greg Moss also quit the PLP this term but remained an Independent before forming his own party.
The North Abaco seat, won by former Prime Minister Hubert Ingraham in 2012, went to PLP MP Renardo Curry in a by-election later that year.
Thirty-nine seats are up for grabs in the upcoming election.