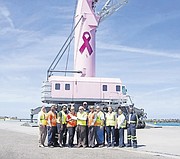 A powerful symbol of Nassau at work, the three Liebherr cranes at the Nassau Container Port (NCP) on Arawak Cay welcome vessels entering the harbour with their massive, mechanical beauty.
APD Limited, owner and operator of NCP, recently made one of these giants even more beautiful for a worthy and urgent purpose — promoting breast cancer awareness among Bahamians to save lives through preventive measures.
"We have painted our L3 crane a bright, eye-catching pink and put a pink ribbon on it in support of breast cancer awareness. Our HEO department did a fantastic job of painting the entire massive structure. Their contribution is symbolic of how deeply the entire APD team cares to make a difference. The SignMan did a great job putting the pink ribbon on the crane for it, so that there is no doubt about the purpose of the initiative,"said Mike Maura Jr, APD's president and CEO.
APD's contribution to breast cancer awareness has been multi-faceted. The company made a donation to the Cancer Society of the Bahamas and sponsored and participated in the Society's Stride for Life Walk/Run.
APD Chairman Jack Sands was on hand to present a cheque to Melissa Major of the Society.
"Researchers tell us that the Bahamas is among the top 20 countries in the world in terms of the number of women with breast cancer. That figure is much too high. The good news is that there are preventative measures Bahamians can take to reduce the possibility of getting the disease. APD considers it our duty to take part in spreading this important message," said Mr Maura said.
Melissa Major of the Cancer Society said that "42 is the average age of the women diagnosed with breast cancer in the Bahamas. Also more than 44 per cent of women diagnosed with breast cancer in the Bahamas present with late stage 3 or stage 4 breast cancer. Twenty per cent of women under the age of 40 are presenting with breast cancer."
She added: "The Cancer Society of the Bahamas is urging women to take their screening guidelines seriously. Have an annual mammogram starting at age 40, if you have a family history talk with your doctor because your screening guidelines could start earlier than 40 years of age, especially if you have a family history of the BRCA gene. If you are under 40 make sure have your annual clinical breast examination. We also encourage women to do their breast self-examination monthly. Early detection save lives!"