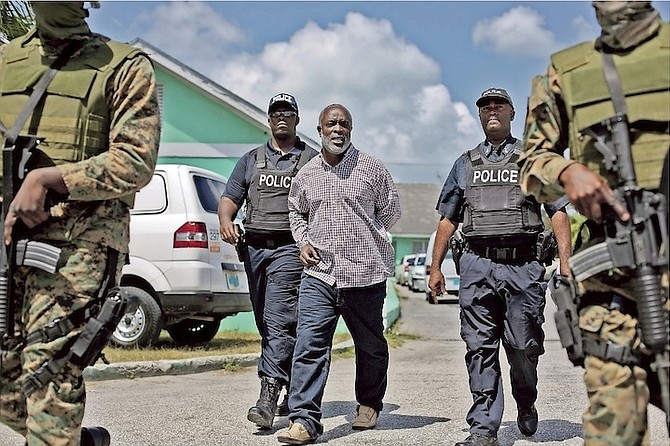 By LAMECH JOHNSON
Tribune Staff Reporter
ljohnson@tribunemedia.net
OMAR Archer Sr was yesterday convicted of threatening to harm a senior police officer through a post to his social media page nearly two years ago.
The 45-year-old Nassau Village resident appeared before Magistrate Derence Rolle-Davis to present his defence to the threats of harm complaint brought against him by Senior Assistant Commissioner of Police Leon Bethell.
Archer Sr, who faced up to one month in prison over the charge, was sentenced to time served over that conviction.
In 2015, he posted on his Facebook page that he had remembered being poked by the senior officer and his colleagues 10 years prior while studying at the University of the West Indies and that he would "pull" the senior policeman's file.
He also said the senior officer should adjust the surveillance cameras at his home in a better angle.
Senior ACP Bethell is currently on pre-retirement leave from the Royal Bahamas Police Force.
In yesterday's proceedings, Archer Sr opted to remain silent and did not call any witnesses in his defence.
Instead, his lead lawyer, Fred Smith, QC, made closing addresses concerning the case in question.
"We submit the prosecution has failed to lead sufficient evidence to prove beyond a reasonable doubt that Archer is guilty of putting ACP Leon Bethell in fear of unlawful harm," Mr Smith said.
He argued that the prosecution must prove intent and not rely solely on the alleged act itself.
"We say it beggars for the imagination for the ACP Bethell to have been put in fear of unlawful harm for the few words Omar Archer posted on his Facebook," he added.
Mr Smith said he viewed the statement of the complainant and the words complained of and found that "those words by themselves short of any actual threatening, cannot in law, prove beyond reasonable doubt to have put Leon Bethell in fear."
"ACP Leon Bethell is no ordinary person," Mr Smith added. "He is a policeman who has hundreds of other policemen around him to protect him and is not the kind of character that is easily threatened even by words that were a direct threat."
He also argued that the post relied on is hearsay evidence because "there's no evidence from Mr Archer that he made those statements."
"In this day and age of cyber manipulation, they can put Omar's face up and say he threatened people," the attorney said.
Mr Smith referred to Robinson 1993 Criminal Law Reports as the standard concerning the threshold for threats of harm, which notes that "a threat cannot be made by words alone, there must be conduct."
Mr Smith argued that the words complained of were not threats or aggressive.
Sgt Lakisia Moss, in response, argued that Archer Sr should be held accountable for his actions.
"Threats of harm is one of those offences that (is) subjective where the words of an individual can put someone in fear," the police prosecutor said.
Sgt Moss said there was evidence to prove that threats of harm, contrary to Section 203 of the Penal Code, had been committed.
She noted that the record of interview taken in police custody, which Archer Sr had an opportunity to peruse and revise if needed, had been signed by him and he acknowledged that he posted the statements on Facebook.
"Notwithstanding former ACP Bethell was a law enforcement officer, he acknowledged posting that the cameras at his home needed adjusting. Yes, he's a police officer but he has family and there's an indication he would've visited the home."
"Just as the law protects any ordinary citizen, ACP Bethell was in his rights to feel threatened," the prosecutor argued, also relying on the aforementioned case authority that was cited by the accused's side.
The police prosecutor said it was Archer Sr's alleged threat of death in Senior ACP Bethell's presence that led to the incident he alluded to on his Facebook.
She said the reference to that incident more than a decade ago proves intention required by the case of Robinson.
Magistrate Rolle-Davis, after considering both submissions, found that the prosecution had proven its case beyond a reasonable doubt and convicted the accused of the charge of threats of harm.
In a mitigating plea, Mr Smith urged the court not to impose a custodial sentence for a crime that carried the maximum penalty of one month in jail.
"I ask the court to take into account the nature of the offence and that it was conveyed by the internet. It was not direct in person to ACP Bethell," Mr Smith said.
He argued that his client had no prior convictions, was a married businessman who was supporting his child's tertiary education.
"The mere fact of his conviction will be a stain against his reputation which may plague him for years to come," Mr Smith said.
The lead lawyer also said that his client has already spent 24 collective days in custody in relation to the matter and another case.
"We ask for time served and we say a custodial sentence is not appropriate and that it would not be fair to impose a monetary fine in addition," Mr Smith argued.
The magistrate ruled that Archer Sr would not have been in custody in the first place if he had appeared in court as mandated. However, he obliged Mr Smith's request and sentenced Archer Sr to time served for the threats of harm conviction.
He also noted that a release order had been given for a matter in Magistrate's Court number 13 as the fine had been settled.
The magistrate reiterated that the question of bail in Archer Sr's other criminal matter, which is being constitutionally challenged, had to be decided by the Supreme Court.
Archer Sr has the right to contest the conviction and sentence to the Court of Appeal.