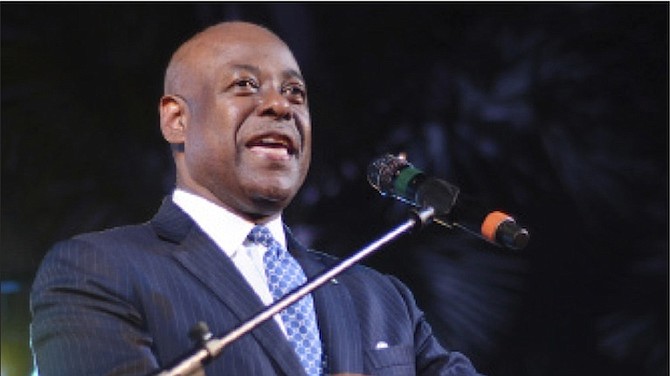 By RICARDO WELLS
Tribune Staff Reporter
rwells@tribunemedia.net
DESPITE widespread backlash over a last-minute delay and ultimate revision of dates for the third Bahamas Junkanoo Carnival, Tourism Minister Obie Wilchcombe yesterday insisted that there has not been any "negative" feedback associated with the festival.
Originally scheduled for May 4 to 6 in Nassau with an April kick off in Grand Bahama, last week the Carnival was delayed by two weeks for Nassau and cancelled in Grand Bahamas due to possible conflicts with the general election timetable.
After two days of intense criticism over the decision to reschedule the event by both stakeholders and festivalgoers, Mr Wilchcombe stepped in and announced that the original dates had been reinstated, along with the Grand Bahama component.
Asked yesterday if the move had affected the festival's plans or international brand, Mr Wilchcombe said he had not been made aware of any negative concerns because of the changes.
He added that response to the festival had remained positive in the minds of both organisers and potential festival-goers.
"No negative feedback has reached my desk reference to the brief date change. The response has been positive from the many who have booked holidays in the Bahamas to coincide with Junkanoo Carnival," Mr Wilchcombe said.
This claim comes despite indications by Bahamas Carnival Band Owners Association (BCBOA) President Dario Terrelli that the event's brand reputability and the 2017 festival had been dealt a major blow.
Mr Terrelli last week said that bands would not be able to ask for any financial assistance from the government ahead of the festival to counterbalance the misstep, as Parliament was set to dissolve yesterday.
In 2015, the inaugural festival took place on May 7-9 in New Providence, and the 2016 Junkanoo Carnival kicked off on April 15-16 in Grand Bahama and on May 5-7 in New Providence.
The 2017 general election has been schedule to be held four days following BJC's closeout concert scheduled for Saturday, May 6. In 2012, the election was held on May 7.
Trinidadian singing stars Machel Montano and Bunji Garlin are expected to headline the festival.
BNFC insiders had projected hundreds of thousands of dollars in losses as a result of last week's confusion.