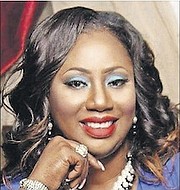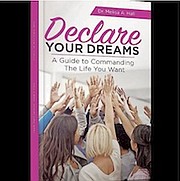 By JEFFARAH GIBSON
Tribune Features Writer
jgibson@tribunemedia.net 
THE Bible is filled with words of wisdom concerning the power of the tongue. Many Scriptures directly address how speaking positive words and faith-filled words has the power to influence good outcomes in a person's life. 
And the power of affirmation is not only limited to the Christian experience, but is something encouraged and promoted in many theologies and ideologies. 
With so much advice encouraging people to speak positively, Bahamian wealth coach and women's empowerment guru Dr Melisa Hall said she felt compelled to be intentional about declaring the life she wanted to lead. 
Dr Hall said she took a retrospective look at all she had accomplished over the years and found that she could ascribe her success to a consistent prayer life and positive declarations.
Wishing to share the experience of her journey to success, Dr Hall has published her latest book called "Declare Your Dreams: A Guide to Commanding the Life You Want". With it, she hopes to help people carve out the life they want.
The book, she said, is about manifesting one's dreams through the use of declarations, affirmations and prayer. It was released on Amazon last month.
Dr Hall will host an official book signing on May 13, the Mother's Day weekend, at the Bookcase Bookstore.
Shortly after the book's release, it soared high on Amazon's best-seller lists.
"I am thrilled and enthusiastic. Being number one in three categories spoke volumes to my expertise in business, leadership and Christian counselling. It feels really great to be up there with authors like Joel Osteen and the likes," she said. 
"The inspiration came as I was preparing to graduate for my doctorate in leadership and the 'Power of Her Conference'. I looked over my life's accomplishments and realised that much of what I had achieved was a result of declarative prayers and affirmations," she said.
The concepts and themes addressed in the book, Dr Hall, said are based on how important it is for people to make good declarations regarding their mind, relationships, health, finances and careers, in order to live a life of success, happiness, wealth and prosperity.
"The overall message is you have the power to control the results and outcome you desire in your life. You can command the life you want and ultimately deserve, according to God's will and plan for your life," she said.
Dr Hall wants others to experience the success she has in her own life, which is the reason she wrote the book. 
"It was important because in my coaching, speaking and mentorship I come across persons who desire much more in life but fail to activate simple strategies that can change their lives forever. I wanted women to realise that they possess royal queen power to rock their confidence and rule their world."