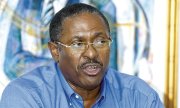 By RASHAD ROLLE
Tribune Staff Reporter
rrolle@tribunemedia.net
TO reduce the debt burden on Bahamians, the Progressive Liberal Party has pledged it will cap the level of interest that may be charged on loans taken out by government workers and paid through salary deductions if re-elected.
While the specifics of the policy were not given, the pledge is contained in the PLP's action plan posted on its website.
PLP Chairman Bradley Roberts told The Tribune on Thursday afternoon that the party will release a more comprehensive manifesto this week.

"We will also put in place other measures to help those currently paying excessively high levels of interest on loans backed by government guarantee," the PLP's plan noted.
The PLP also pledged to create policies ensuring that 75 per cent to 80 per cent of revenue generated from the tourism industry remains in the Bahamas.
Research by the National Development Plan Secretariat has found that only about 20 per cent of profits from foreign direct investments in the Bahamas trickles down throughout the society.
Critics have said this should make the government rethink the way it offers concessions to foreign investors by way of heads of agreements.
"When you consider the social benefit of employment and the income Bahamians derive from it, but then consider the concessions given away to investors for free, real property tax reductions, and the various forms of exemptions we give, what is the opportunity cost and the real impact of the development to the Bahamas?" Chamber of Commerce Chairman Gowon Bowe told The Tribune earlier this year.
"It's a negative impact going into the government's coffers when you consider the profits made that we don't benefit from. It would have been cheaper to tax foreign investors at a full rate and just give the (Bahamian) workers a stipend."
In its plan, the PLP also said it will establish a programme in the Department of Housing to help people who cannot afford traditional down-payments on their homes.
"We propose to utilise tracts of land on New Providence designated for agriculture and transfer them to housing," the PLP noted. "One example is the tract on Milo Butler across from Coca-Cola; another is a tract on Cowpen Road. The Bahamas Mortgage Corporation will facilitate collection of the money. The Department of Housing will construct the homes and qualify the applicant.
"We propose beginning the programme with civil servants. The price point of rent-to-own homes will be lower using new housing models and building methods. We will move forward with the planning already underway between the Ministry of Environment and Housing, the Ministry of Finance and other relevant government agencies."
The PLP claimed that this rent-to-own proposal was announced previously during this term.
At a rally in March, Free National Movement Leader Dr Hubert Minnis also pledged to introduce a "rent to own" housing policy to help aspiring homeowners achieve their dreams.