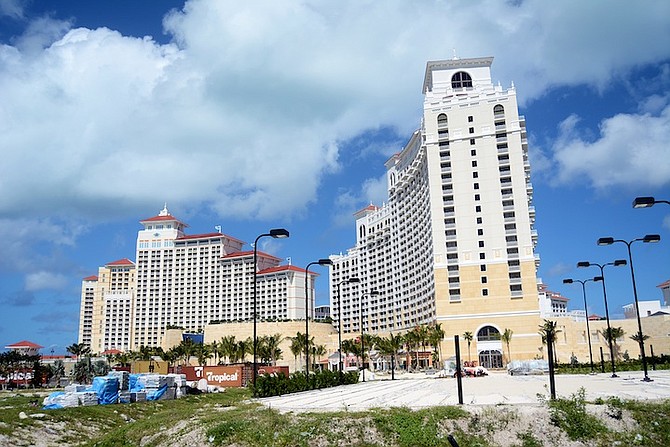 By AVA TURNQUEST
Tribune Chief Reporter
aturnquest@tribunemedia.net
FREE National Movement Leader Dr Hubert Minnis has suggested that there are "side letters" concerning the Baha Mar project that his government will disclose to the public if elected to office.
Notwithstanding that the resort deal has been sealed by the Supreme Court, Dr Minnis told members of the press last week that he suspected there were agreements between the government and developers that were not a part of the resort's memorandum of understanding (MOU).
The FNM leader said while there was nothing he or the Bahamian people would love to see more than the successful opening of the mega-resort, there was no transparency under the present government.
He made those claims as he forecast an election victory for his party, adding that he will have a zero tolerance attitude for corruption and misappropriation as prime minister.
"This government does everything under the clouds of darkness," Dr Minnis said, "and that is what we must change. "Transparency for the people, I am employed by you the people, I am accountable to you the people, and therefore I should not be hiding documents from you, my employers, that should not happen.
"This government, they believe that they are your bosses, it's the reverse. I've said before, and I'll say it again, after becoming government we will unseal the documents so the Bahamian populous would know exactly what is going wrong."
When questioned whether his government would petition the courts, Dr Minnis said: "Documents can be unsealed, you must remember that when we became government there were a lot of side letters that were agreed to that were not a part of the MOU."
He said: "And I would not be surprised if the PM and his government have other side letters that we would find out about.
"But there is nothing better I and the Bahamian people would love than to see Baha Mar opened properly so as to create employment for our people so they can now pay their bills, etc, and deal with their families appropriately.
"Nothing better we would love," he added.
Dr Minnis spoke with members of the press on the sidelines of a donation to Gambier Primary School, and denied recent claims that he had been "running from the press," and flagging criticism of his leadership ability. Pointing to his team, Dr Minnis expressed confidence that his team, if elected, will be accountable to both himself and the public.
He maintained that opposition attacks from Progressive Liberal Party members were rooted in fear of their impending election loss, and told critics to "join the line".
As for his leadership ability, Dr Minnis said: "I have held leadership roles in many areas before, I've been president of the Medical Association (of the Bahamas), I've been minister of health, my record speaks for itself.
"I've been head of the Department of Obstetrics and Gynaecology, I've been department chief within the hospital, my record speaks for itself, it's all there.
"They can view my records it's all there, and they will see true governance when I and my team move in. (My team) will be accountable to both me and the people, and they know that the first sign of corruption they will be dealt with appropriately. They know that the first sign of misappropriation, they will be dealt with appropriately."
Dr Minnis added: "(PLP Chairman) Bradley Roberts needs to worry about himself and the issues within the PLP, don't worry about us, we're focused. Perry Christie, they're employment status stops at 8pm May 20."
A series of events for Baha Mar's soft opening are scheduled for Friday.