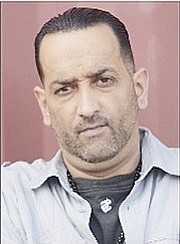 By Inigo 'Naughty' Zenicazelaya
I MUST admit my long Easter weekend was filled with the NBA Playoffs, Major League Baseball and NFL Draft rumours and rumblings. Not to mention tons of great food and libations sharing the stage with celebrity headliner Donnell Rawlings aka 'Ashy Larry' from 'Chappelle's Show.'
So with that being said, as I found myself in recovery mode in my 'man cave' on Easter Monday, the functioning portion of my brain wandered on what great events happened in sports history on this day?
I'm glad I let my mind wander, it turns out that April 18 had many appearances by numerous sporting greats, some coming, others going, all while making sports history.
• Let's have a look at who achieved what on this great day in sports history:
1809 - First run of 2,000 guineas horse race at Newmarket, England
1869 - 1st international cricket match, held in SF, wins by Californian
1908 - Tommy Burns KO's Jewy Smith in the 5th round to win World Heavyweight Boxing title
1918 - Cleveland center fielder Tris Speaker turns an unassisted double play
1922 - Netherlands soccer team defeats Denmark 2-0
1942 - Stanley Cup: Toronto Maple Leafs beat Detroit Red Wings, 4 games to 3
1944 - 48th Boston Marathon won by Gerard Cote of Canada in 2:31:50.4
1945 - 1 armed outfielder, St Louis Brown Pete Gray, 1st game he goes 1 for 4
1946 - Jackie Robinson starts his historic run in Major League Baseball, as he debuts with the Montreal Royals
1950 - Sam Jethroe is 1st black to play for Boston Braves
1950 - Yankees win 15-10 after trailing Red Sox 9-0 in 6th
1959 - Stanley Cup: Montreal Canadiens beat Toronto Maple Leafs, 4 games to 1
1962 - 16th NBA Championship: Boston Celtics beat LA Lakers, 4 games to 3
1963 - Stanley Cup: Toronto Maple Leafs beat Detroit Red Wings, 4 games to 1
1966 - Bill Russell becomes the first black head coach in NBA history, with the Boston Celtics
1968 - 1st ABA basketball championship game is played.
1976 - Judy Rankin wins LPGA Karsten- Ping Golf Open
1977 - 81st Boston Marathon: Jerome Drayton of Canada 1st man in 2:14:46 and Miki Gorman of United States 1st woman in 2:48:33
1977 - MLB Hall of Fame 1st baseman Eddie Murray hits his first career home run
1981 - Pawtucket & Rochester start a 33-inning baseball game
1981 - Longest game in Professional Baseball: Pawtucket Red Sox tie Rochester Red Wings 2-2 in 32 innings (game resumed 23rd June)
1982 - Atlanta Braves win record 11th straight opening game (beat Astros)
1982 - Kathy Whitworth wins LPGA CPC Women's Golf International
1983 - 87th Boston Marathon: Greg Meyer of United States 1st man in 2:09:00 and Joan Benoit of United States 1st woman in 2:22:43
1984 - Joan Benoit runs world record female marathon (2:22:43)
1987 - An unconscious skydiver is rescued by another diver in mid-air
1987 - Philadelphia Phillies Hall of Fame 3rd baseman Mike Schmidt hits his 500th career home run off Don Robinson of the Pittsburgh Pirates
1988 - 92nd Boston Marathon: Ibrahim Hussein of Kenya 1st man in 2:08:43 and Rosa Mota of Portugal 1st woman in 2:24:30
1990 - Birmingham Fire issued an original franchise in WLAF
1991 - NBA Hall of Fame guard Jon Stockton breaks his own single season assist record with 1,136
1992 - Start of South Africa's 1st Test Cricket since 1970 (v WI Bridgetown)
1993 - 54th PGA Seniors Golf Championship: Tom Wargo
1993 - Trish Johnson wins LPGA Atlanta Women's Golf Championship
1994 - 98th Boston Marathon: Cosmas Ndeti of Kenya 1st man in 2:07:15 and Uta Pippig of Germany 1st woman in 2:21:45
1994 - Cricketer Brian Lara breaks the world Test record highest innings, reaching 375 runs on the third day of the fourth Test against England in Antigua
1995 - Hall of Fame QB Joe Montana announces his retirement from the NFL
1998 - NFL great QB Peyton Manning is selected first in the NFL Draft by the Indianapolis Colts
1999 - NHL Great and Hall of Famer Wayne Gretzky plays his last game, as his NY Rangers lose 2-1 to the Pittsburgh Penguins

2005 - 109th Boston Marathon: Hailu Negussie of Ethiopia 1st man in 2:11:44 and Catherine Ndereba of Kenya 1st woman in 2:25:12
2011 - 115th Boston Marathon: Geoffrey Mutai of Kenya 1st man in 2:03:02 (course record) and Caroline Kilel of Kenya 1st woman in 2:22:36
– Until next week, I will leave you with this from Henry James:
"It takes an endless amount of history to make even a little tradition."
• Naughty presents 'Mischief and Mayhem in da AM' from 6am to 10am, Monday to Friday and 'The Press Box' sports talk show on Sunday from 10am to 1pm, on KISS FM 96.1. Comments and questions to naughty@tribunemedia.net