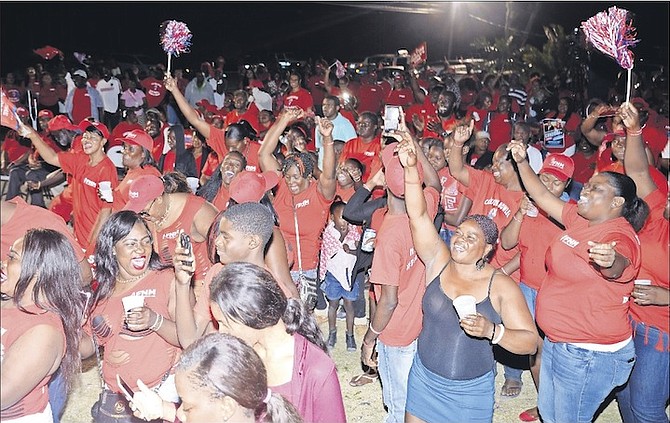 By KHRISNA VIRGIL
Deputy Chief Reporter
kvirgil@tribunemedia.net
FREE National Movement (FNM) Leader Dr Hubert Minnis last night said his vision for agriculture is "broad" while pledging to "fix" the Bahamas Agriculture and Marine Science Institute (BAMSI) despite speculation from the governing Progressive Liberal Party (PLP) that a FNM led government would close down the agriculture based facility.
Describing himself as a "transformational" leader, Dr Minnis appealed to supporters in North Andros to rally together to vote the PLP out of office before "they finish raping our country" of its resources.
He further sought to paint the PLP as an organisation led by an "elitist" executive with a sense of entitlement, adding that Prime Minister Perry Christie believed he was entitled to rule the country for as long as he wanted.
During a rally on the island where scores of FNMs gathered, Dr Minnis said it appeared that the PLP was in panic mode and was readying to "play dirty tricks" to win the election. He said it was now more important than ever for FNMs to be vigilant, not letting their guard down for "battle".
FNM candidate Carlton Bowleg Jr will go head to head against incumbent Dr Perry Gomez in the 2017 general election for North Andros and the Berry Islands. Samuel Kemp will represent the Democratic National Alliance (DNA). Dr Gomez has represented the constituency since 2012.
Dr Minnis said: "When the FNM wins we will fix BAMSI. We will make it stronger and even better. I will be a transformational leader. My vision for agriculture is broad. For many years it has been increasingly difficult to find our native fruits. An FNM government will launch an ambitious programme for the farming of fruits like guava, tamarind, juju, soursop, sugar apple, pineapple, sapodilla, hog plum, scarlet plum, guinep, coco plum, papaya, sugar bananas, and other fruit. These fruits can be processed into jams, sauces, teas, fruit drinks, bakery products and more.
"Family Islands like Andros will play the major role in the farming of these fruits as well as organically grown vegetables. The truth is, BAMSI could have been up and running in the proper manner long ago. But like everything they touch, the PLP used BAMSI to give money and favours only to their people."
Dr Minnis also said: "The PLP also wanted to give away your fish and your land to foreigners. This big Andros land deal was not intended to benefit most Androsians. The PLP wasn't checking for you. This was intended to benefit a few PLPs and other PLPs who were connected to the higher ups. If the PLP had their way, in years to come, you'd be struggling to find fish. And you'll be making your boiled fish from lionfish. We have to stop the PLP before they finish raping our country."
Dr Minnis said if his party wins the election, it would reform and modernise local government in the country.
"The FNM will amend existing legislation and policies to enhance and increase the authority of Family Island local government.
"We will work to enhance small business opportunities, including: heritage and cultural tourism; cooperatives and small farm holdings; boutique resorts and other such enterprises in the Family Islands.
"The FNM will empower each island to establish committees to draft their own overall development plan in the context of the Bahamas National Development Plan," Dr Minnis said.
Earlier this month, Agriculture and Marine Resources Minister V Alfred Gray told PLPs in March Harbour, Abaco that Dr Minnis would most likely close BAMSI if the FNM was victorious in the upcoming election, which is set for May 10.