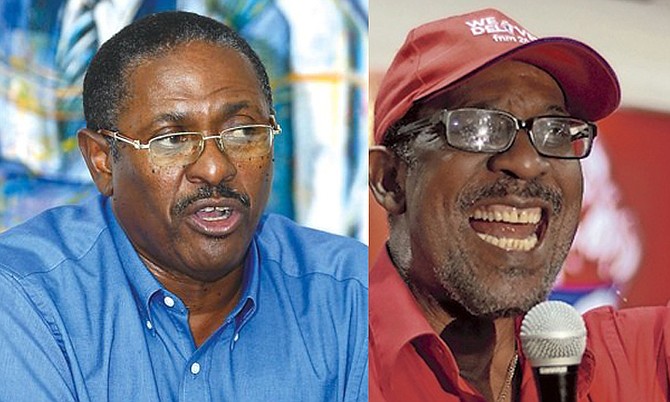 By RICARDO WELLS
Tribune Staff Reporter
rwells@tribunemedia.net
PROGRESSIVE Liberal Party and Free National Movement representatives were vague yesterday on how their parties are spending and raising money this election cycle, however PLP Chairman Bradley Roberts said his party is expected to spend "tens of millions".
This will cover political items, media content, rallies and other "necessary line items," he said.
Mr Roberts estimated that his party has spent roughly $3.5m on "initial" paraphernalia, indicating that individual candidates have also used their own resources to procure additional items where necessary.
He said that this range of spending is normal, adding that the nature of political campaigning has always demanded that political organisations "present a strong financial footing," as "constituents' demands have to be met."
"A great deal is being spent," said Mr Roberts, a former MP for Bain and Grants Town.
"That has always been the case when it comes to this side of things," the PLP chairman added. "In every constituency there are things that need to be done and candidates in many instances finance their own campaigns, but with that, we at the party level still have a number of things we need to get done."
With the major political parties throwing massive rallies, motorcades, concerts and other events to sway voters, there are renewed concerns about election campaign financing.
The FNM was more tight-lipped when asked about its campaign spending.
"There is no such law to prohibit what we do, how we do it and or why we do; so we will continue on doing what we deem necessary to place us in the best position," FNM Chairman Sidney Collie said in response to questions from The Tribune.
The FNM has launched massive social and mainstream media campaigns over the last several weeks.
The party has erected signage with its campaign slogan "It's the People's Time," and has an ad campaign blitz on the Internet platforms.
Asked directly about these campaign elements, Mr Collie insisted that his party is doing "what is necessary to get the job done."
He added: "Paraphernalia, rallies, media, the 39 constituencies and their unique activities, all the money we have managed to raise, those funds have gone to address these things."
These comments come as both parties continue to insinuate that the other is being financed by special interests.
At a rally earlier this month, PLP Fox Hill incumbent Fred Mitchell warned voters to "follow the money trail" in reference to an opposition candidate.
"I want you all to follow the money trail," Mr Mitchell said, "there is a candidate in Freeport who is spending money like it's going out of style. When people spend money, there has got to be some visible means of support, where is the money coming from?"
Shortly after the 2012 general election, Prime Minister Perry Christie contended that campaign financing had sunken to "repugnant" and sometimes "criminal" levels.
At the time, Mr Christie called on parliamentarians to decide whether they are committed to putting campaign finance legislation in place. However he said he would not force the legislation without consensus.
The group, Citizens for a Better Bahamas (CBB), has appealed to the Christie administration to start bipartisan talks with the Free National Movement to enact campaign finance laws.
However, those talks stalled soon after getting underway.
CBB lead representative Lemarque Campbell, when contacted yesterday, said concerns on the matter remain at an all-time high, as both parties have used calls for such reform as a means to score political points.
Mr Campbell, a lawyer, said when controversy emerged over the PLP's relationship with international fashion mogul and Lyford Cay resident Peter Nygard, the party opted to fire back with claims that the FNM was allegedly being financed in part by another Lyford Cay resident, Louis Bacon - leaving many question unanswered.
Mr Campbell told The Tribune that this level of deflection illustrates that neither party is "truly serious" about addressing the matter because they have benefited from the present construct of campaign financing.
"They argue about it when it is convenient to their arguments," Mr Campbell said. "Despite pushes for reform, anti-corruption legislation and a transparent public procurement system, they have done nothing to address this issue.
"We can only speculate what money is coming in, where it is coming from and what it is for. It is a sad state of affairs in the Bahamas because if they can see the issue when it is beneficial to them and then work so hard to avoid it when it isn't, that means that the issue is very serious."