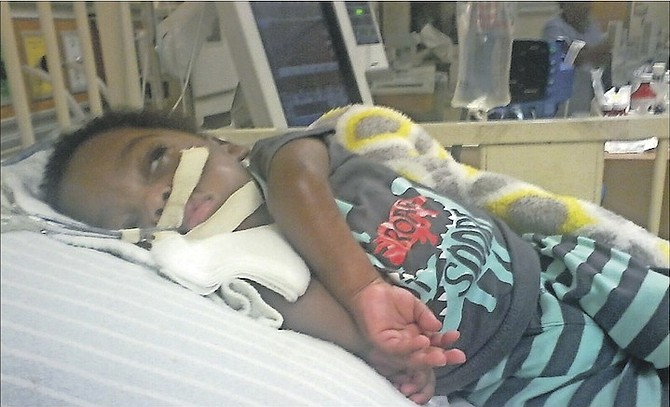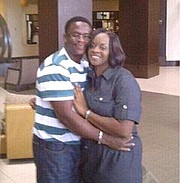 By DENISE MAYCOCK
Tribune Freeport Reporter
dmaycock@tribunemedia.net
A FOX Hill couple who have been trying desperately for over a year to have their baby son transferred to the United States for special medical care are claiming that the Princess Margaret Hospital has been frustrating the process.
Madeen and Ricardo Bullard's baby son Joshua has been hospitalised since birth for a year and four months in the Neonatal Intensive Care Unit (NICU) at PMH, where doctors have been unable to provide the couple with any clear diagnosis or reasons for his declining condition.
They believe that doctors in the US may be able to help treat their son before it is too late and he suffers permanent damage.
A specialist at Joe DiMaggio Children's Hospital had scheduled an appointment to see Joshua on August 19, 2016, at the medical facility in Florida, but the Bullards said plans fell through after PMH was very unco-operative.

The Bullards visit their son in NICU every day and said there is little to no improvement in his condition. "He is now off the ventilator but has a breathing tube in his nose to receive oxygen, and he also has a feeding tube in his stomach," Mrs Bullard, who worked as an office manager before having Joshua but now devotes her time to him, told The Tribune.
The doctors, she said, believe that their baby may have suffered some nerve damage as both of his arms are severely bent or twisted. He has also lost sight in both eyes. "The doctors have still not given us a definitive answer as to what is wrong with our son," Mrs Bullard said.

Mrs Bullard said she had a healthy, normal pregnancy up until the day before her son was born, when she was given a blood transfusion on December 2, 2015, at the hospital.
She said the baby moved around and kicked a lot inside her tummy. During her pre-natal visits, the doctors said the baby was fine and that there was nothing out of the ordinary. "Everything was fine until after they gave me a blood transfusion," she recalled.
Mrs Bullard was told by doctors that her blood count was low and that she needed a blood transfusion. The first transfusion went well, but during the second transfusion she had a severe reaction after reportedly being given the wrong blood type.

Mrs Bullard had difficulty breathing and lost consciousness. "I was in a lot of pain; I tried to scream out but there was no sound and I started to black out; I remember seeing the nurse give me two needles," she said.
The following day, doctors took the baby from her. "When the baby was delivered I heard him cry, but he was very rigid and stiff to the touch," she recalled.


The Bullards - who also have two daughters, aged five and seven - believe the "bad blood" transfusion also affected their unborn baby, but they said the hospital is denying that.
The Tribune attempted repeatedly to obtain a response from the Public Hospitals Authority (PHA) but none has been forthcoming.
"I know what happened to me was negligence on the part of the hospital for giving me the wrong blood, and my baby was fine until that happened," she claimed.
Last October, she said their son's condition worsened after milk went into this lungs.
"We received an urgent call from PMH around 4am to come to the hospital, and when we arrived we were told by doctors that our baby had coded (heart stopped beating) twice after aspirating," she said.

Mrs Bullard, who is originally from Grand Bahama, said they have asked on two occasions to have their son airlifted to the US for medical treatment. The Bullards contacted Jackson Memorial Hospital, but the doctors there were satisfied with what PMH was doing. They also contacted the Joe DiMaggio Children's Hospital in Hollywood, Florida.
"We were happy that a specialist there had agreed to see our baby and had given the hospital a date. We did our part and got our baby's passport and visa ready for the trip," she said.
Mrs Bullard said the doctors at Joe DiMaggio needed PMH to send them the baby's medical documents. "The specialist had been waiting for three weeks … and the day before the transfer the hospital started questioning the doctor about the costs and wanted to know how long the baby would be there," she said.
The Bullards said the US doctor had been back and forth with the hospital trying to get their son's medical documents. They claimed that the PMH is just dragging its feet while their son's health continues to decline.
"They say the tests are normal but there is something wrong," Mrs Bullard said. "I have given them enough time." She said she had met with Prime Minister Perry Christie, the Health Minister, Dr Perry Gomez, and Herbert Brown, Managing Director of the PHA, in an effort to find a resolution.
"Whatever I have to do to get my son out, I will do," she added, saying the couple were seeking legal advice.
The couple celebrated their baby's first birthday last December in hospital and he is now the oldest child in the NICU.
"It has been a year and four months and we just want our son airlifted to the US so doctors there can tell us what is going on with him. And so we are looking for a hospital that will take him. We just want a second opinion and you can't kill somebody because they want to get a second opinion," she said.