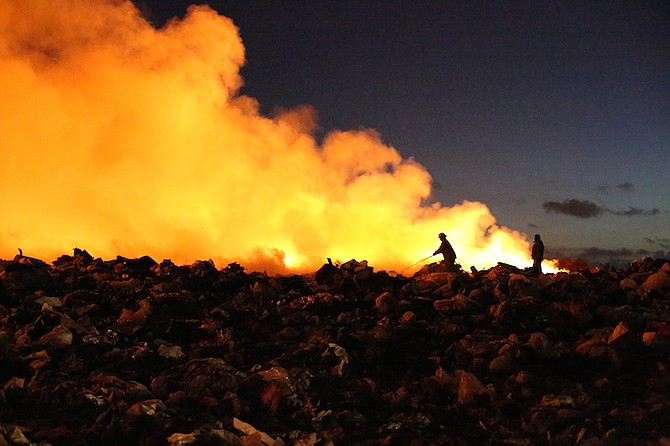 Firefighters battle major new blaze at landfill
By SANCHESKA DORSETT
Tribune Staff Reporter
sdorsett@tribunemedia.net
FIREFIGHTERS yesterday battled a large blaze at the New Providence Landfill, nearly three weeks after tackling a massive fire at the city dump that burned for nearly a month.
Officer in Charge of Fire Services, Chief Superintendent Walter Evans said the current fire is "not connected" in any way to the previous blaze and at this time officials do not know what caused the fire. However Environment Minister Kenred Dorsett told reporters at the site that he suspected "sabotage" in relation to the fire. He said he "instructed" the team of firefighters to have the blaze extinguished "before nomination day" today and certainly before Baha Mar's opening on Friday.
The blaze started shortly after 3am Wednesday and Chief Supt Evans said officers expect to battle the fire for at least another day but he said the wind is a "huge" factor.
Chief Supt Evans said that, fortunately, the smoke over the surrounding areas is "minimal" but a team is out in Tall Pines, Jubilee Gardens, Victoria Gardens and Fire trail Road doing assessments.
He also said firefighters had to pull resources from the dump around 7am after two separate fires broke out off Independence Highway and Golden Gates #1.
"We got a call before 3am that a fire had broken out at the dump. When we got there we met a large area on fire at the landfill," Chief Supt Evans told The Tribune. "This area is not connected to the last fire we had last month, the most recent fire. This is a new area and we have a full team out there to assess the fire. The smoke is not as bad as the first one but there is plenty smoke being emitted from the fire. Wind is playing a factor in this, but the smoke is not sitting in any one area."
Chief Supt Evans said firefighters were also battling fires at two structures but they have been extinguished.
"While we were at the landfill we got another call around 7am that there was fire in Golden Gates #1," he said.
"When we arrived we met a concrete structure completely engulfed in flames. The entire house was destroyed. While fighting that fire, we got another call of another fire, this time off Independence Highway. It came in as a building fire but it was a bush fire. Both fires are extinguished and we had no reports of any injuries."
This latest fire marks the second massive fire at the New Providence landfill this year, after a fire broke out on March 5.
Free National Movement Chairman Sidney Collie yesterday said he hopes the situation is resolved "as soon as possible" given that each new landfill fire disrupts our quality of life. He said a vote for the FNM in the upcoming election is a vote to ensure that someone is held accountable for the fires.
"Not only do these fires damage property and bring negative effects to our tourism product, but they pose serious health risks to Bahamian families, which they endure far too frequently," Mr Collie said in a statement.
"Throughout this recurring catastrophe, this unduly inept PLP government tells us not to worry. As if their empty rhetoric somehow contains the physical properties to solve this ongoing calamity, but Bahamians know different. We all know that the request for proposals to waste management firms, which they repeatedly talk about, won't fix today's landfill blaze. We know their big landfill plans outline modern engineering and waste management practices, but these 'plans' have done nothing to prevent today's fire.
"On May 10, use your right and vote for an FNM government that will put the people before selfish endeavours. Vote for the FNM because we will hold our government actors accountable, and we will not allow incompetence to ruin our beloved country and our endearing families," Mr Collie added.
On Wednesday, the government launched the request for proposals for the remediation and operation of the landfill.
Mr Dorsett said the preliminary cost of remediation at the landfill is about $20 million to $30 million.
The city dump has been plagued with recurring fires for years, with the March blaze being considered as the worst to hit the site. Renew Bahamas was engaged by the government in 2014 to manage the landfill and help address the matter.
However, Renew Bahamas pulled out of that deal last year claiming low profitability. It had previously been seeking to renegotiate its management contract and associated financial terms with the Christie administration, having revealed to Tribune Business that it had been incurring continuous, heavy losses.