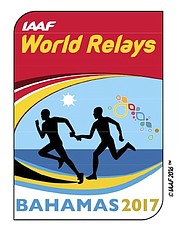 By BRENT STUBBS
Senior Sports Reporter
bstubbs@tribunemedia.net
TEAM manager Philippa Arnett-Willie likes the cohesiveness she's seen so far at Team Bahamas' training camp for the third edition of the IAAF/BTC World Relays Bahamas 2017.
The team was together all week and will conduct their final practice today at the Thomas A Robinson National Stadium as they prepare to compete on Saturday and Sunday night.
"We've had two meetings so far and I must say, the athletes are gelling very well, which is the best thing for relay events," said Arnett-Willie, a former sprinter who competed on her share of relays.
"They all came in and talked to the coaches. In the meetings, we have been very impressed with what they are saying and so we feel very excited about what is going to happen this weekend."
With everybody reporting to camp healthy, Arnett-Willie said it bodes well for Team Bahamas. "Everybody is fit and ready to run in front of the Bahamian crowd."
She noted that all of the athletes have been advised about the emphasis being placed on getting both the men and women into the 4 x 100 and 4 x 400m finals in order to automatically qualify for IAAF World Championships in London, England, in August.
"Relay qualification is our main priority," she stated. "The mixed 4 x 4 relay is an event that the IAAF is putting on as a fun event for the athletes and the spectators.
"But we have made a decision that we will only run the mixed relay if our athletes compete in the 4 x 400. So far, everyone seems excited about what we are trying to achieve. We haven't gotten any resistance to it."
The only member named to the team who will not be competing is Chris 'Fireman' Brown. He had indicated that he will make a determination over the weekend as to whether he is fit enough to compete.
Over the past few months, Brown has been courted to Grenada where he served as the athletes' liaison officer. He was responsible for getting more than 100 foreign athletes to compete in the inaugural Grenada Invitational.
"He will be missed, so will Ramon (Miller), who will not be competing either," she said. "They have a wealth of experience, but in their absence, we're putting the baton in a number of young, but talented quarter-milers.
As they get ready to compete against more than 50 countries in the various event s over the two days of competition, a couple of the athletes expressed their sentiments on the relays.
Michal Mathieu
"It feels good to be home. I know it's always good for the Bahamas to host major event like this, so it's good to be back," he said.
"I can't say exactly how we will do, but we have some very good athletes who are capable of stepping in and taking over. I know my training is coming along very slowly, but having ran a 45-second 400m so far this year, he's anticipating that he will only continue to get faster."
He added that he's even more excited because of the fact that It just so happens that Team Bahamas will have the number one ranked quarter-miler on their team.
Steven Gardiner
As the world's fastest quarter-miler so far this year, Gardiner brings her share of excitement to the team.
"The World Relays is always exciting for me. It's back in the Bahamas again, so it's going to be good competing in front of the home crowd once more," the Abaco native stated.
Gardiner said he's prepared to give it his best in the men's 4 x4 and hopefully in the mixed relay and have a good time in the process.
"There's no pressure on me. I just want to go out there and do what I do best," he insisted. "I'm really looking forward to competing again for the Bahamas."
Demetrius Pinder
As one of the most experienced relay runners available to compete, Pinder said he will have to wait until the coaches make their decision on who will compete.
"I'm ready. I just hope that the coaching staff will make the right decisions," Pinder stressed. "I don't know what they are going to do because when Chis was around, he was able to talk to them one-on-one."
Pinder said he hope that Team Bahamas will field the best team for the 4 x 400 and not put so much emphasis on putting together the mixed relay team.
Anthonique Strachan
With the relays putting more attention on more athletes, Strachan said she has to "put her best foot forward and run our best because she has to compete for the team. But I hope that the coaches will make the right decision on who will run best on each leg."
As she's looking towards stepping up and eventually competing in the 400m, Strachan has her sights set on making her contribution to Team Bahamas' success this weekend.
"This is the first time that we will be having the mixed relay so you can only look at the positive outlook of it," she said. "It's something brand new, it's never been done before and they are trying it out at home."
This is Strachan's first full season since having had surgery a year ago and coming out of her off-season training at full strength, Strachan said she has a more positive outlook for the rest of the year.