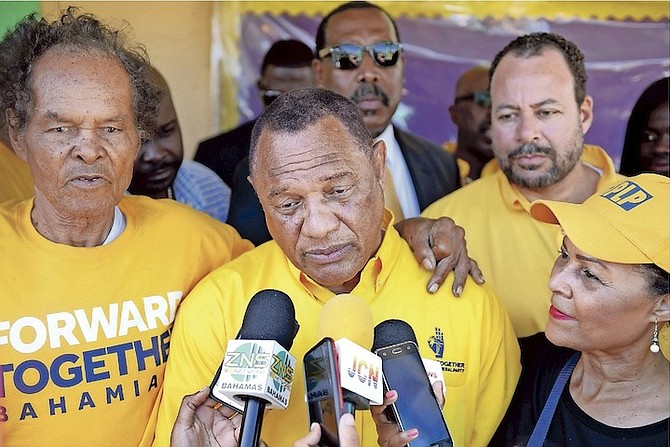 By AVA TURNQUEST
Tribune Chief Reporter
aturnquest@tribunemedia.net
PRIME Minister Perry Christie yesterday declared that his nomination for Centreville marked his final bid for the constituency amidst attacks from opposition candidates, who railed against his record as the area's representative for the past four decades.
Pointing to today's soft launch of the Baha Mar resort, Mr Christie said he was satisfied that his administration's plan was working despite naysayers and added that it was important to note his admission that there was still "lots to do."
He told reporters at Centreville Primary School that it was "amazing" to see the extent to which opposition groups are begging for support in contrast to the "natural flow and commitment" of people to the Progressive Liberal Party.
"Tomorrow (Friday) I will stand and herald the opening of Baha Mar and whatever is said, by whomsoever, the fact of the
matter is thousands of Bahamians have a new opportunity for sustainable jobs with a world-leading tourist company that is the developer, and will be the operator with Hyatt.
"And so whatever one wants to say I am so satisfied that in the five years we have had, we have acquitted ourselves and we have admitted that there is still lots to do. And that is the most important point, wherever I go I concede that listen we could only do so much in the five years.
"Yes there is much more to be done," he said, "yes there are people who are hurting, yes there are people who are unemployed, but we have a plan and the plan is working and the plan will continue to work."
Nominations moved smoothly at Centreville Primary with the Free National Movement's candidate, Reece Chipman, being the first to declare his assets and pay the $400 fee.
Flanked by dozens of supporters, Mr Chipman said his candidacy was not a fight with Mr Christie, but against a dysfunctional system in a bid to bring empowerment and esteem to the community.
He insisted that the incumbent was "finished," and that residents were ready for change after 40 years of no advancement.
"This is about moving forward and making it better for our children," Mr Chipman told reporters.
He continued: "This is about community relationships and making sure that we as Bahamians are able to bring forward better air quality, better water quality, for our children so that we could maximise our potential in a country that belongs to us."
"It's the people's time. They're going to the booth to vote for themselves and when they look on that ballot box and they don't see themselves they will pick the next best thing for them, and that's Reece Chipman."
He added: "We want people that believe in themselves. I'm bringing back empowerment into our community, to Centreville. We want our people to be believers in themselves and this country. Christie has been here for 40 years. We have lost two generations to a system that he himself was responsible for. He needs to go, bye bye Mr Christie."
While Mr Chipman was vehement about the need to unseat Mr Christie, his grandfather, renowned cultural icon and legendary drummer John "Chippie" Chipman, stood proudly in support of his opponent.
Mr Chipman was honoured by the Christie administration in 2014 when they renamed the street where he lived after him.
To this, Mr Christie said: "His grandson is a candidate against me and do you see what he has done today, it is an extraordinary statement of support for my candidacy, for my legacy really, to have such support and such strong expression from this man John Chipman."
For his part, Mr Christie told reporters that the day was an historic one, reflecting on his "wonderful time" and the extraordinary support he has received over the years; a phenomenon he forecast would secure his victory at the polls on May 10.
"Today is a very historic day in that this would be the final time that I nominate for the Centreville constituency," he said.
His admission was met with a playful retort of "hallelujah" from his wife Bernadette, who feigned relief over the prospect.
"I've had I think by any accounts a wonderful, wonderful time as the representative," Mr Christie continued, "I've had extraordinary support from the people of Centreville, notwithstanding the various changes that took place in the constituency.
Mr Christie said: "Today I'm really expressing my gratitude to the people because I expect that they will continue with my representation."
The incumbent MP said he was "particularly gratified" by the outpouring of support for his party throughout the country, recalling the party's rally in North Andros on Wednesday night.
The Centreville seat will be well contested as representatives from six parties and one independent were nominated.
Other candidates nominated yesterday include: Celi Moss, Democratic National Alliance; Bishop James Darling, Bahamas Constitution Party; Frederick Sawyer, God's People Party; Lorraine Arthur, Bahamas National Coalition Party; and Independent candidate, preacher Harold K Ward.
Mr Sawyer lamented that persons were on the PLP's motorcade "carrying on bad" despite the degradation of the area over the course of Mr Christie's tenure.
He attributed the support to free liquor and paraphernalia, and insisted that God was going to make a change.
Mr Moss, the DNA's candidate said: "If you can't fix one constituency, how can you run a country?
"Just look at it, people are using outside toilets around here.
"Shame on Mr Christie. Bridge of the future, I think not. No matter how much you dye your hair, Mr Christie."