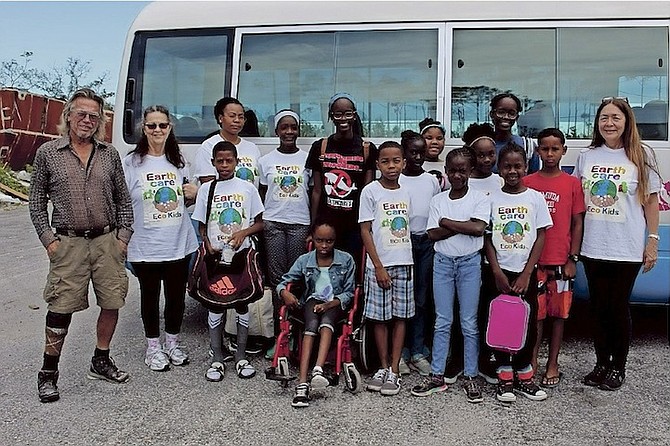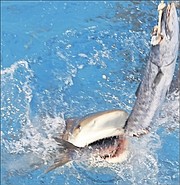 EARTHCARE Eco Kids, a group of Grand Bahama schoolchildren, received an expert lesson in sustainable fisheries earlier this month from a veteran commercial fisherman.
David Rose, who has fished for more than 40 years, told the students about overfishing of the Little Bahama Bank, the use of National Parks and enforcement, limiting the lobster season, protecting large lobster of 5lbs plus as breeders and more during a field trip on April 8. 
During a lecture at the Kevin Tomlinson Academy, Mr Rose said: "Over the last 50 years, fishing on the Little Bahama Bank has increased and with the addition of new technologies eg Global Positioning Systems (GPS), underwater breathing apparatus, and the unfettered use of man-made lobster habitats/shelters. These increasingly efficient fishing methods have depleted the Little Bahama Bank past the point of commercial endangerment.  
"The National Parks throughout The Bahamas can and will increase fish stocks, however, only if proper management and enforcement are applied. Passing of laws on sharks and turtles in The Bahamas, while it was a step in the right direction, Government should consider passing laws on lobster fishing, shortening the fishing season length and protecting lobster over five pounds as breeders." 
The EARTHCARE Eco Kids also enjoyed a two-hour trip out over coral reefs and the seabed in a glass-bottom boat. For some, it was a first time experience and the weather proved kind. The students hail from Bishop Michael Eldon School, Martin Town Primary, Sunland Baptist Academy, Freeport Primary, St Paul's Methodist College, Beacon School, Hugh Campbell Primary and Freeport Gospel Chapel School.       
Mr Rose said the students had enjoyed the field trip and they were very interested to learn about the environmental challenges that are facing The Bahamas. "We are the first species on the planet that can really solve problems and I think our future is bright for the human race and the planet," he added.
Gail Woon, the founder and director of EARTHCARE, said the day had been made possible by sponsors - Kevin Tomlinson Academy, Reef Tours, H Forbes Charter, Havana Gibson and Savanna Gibson - and EARTHCARE Eco Kids Team Leaders, Audrey Jolly and Tyrie Moss.
For more information about the EARTHCARE Eco Kids programme contact Gail Woon at earthcare.bahamas@yahoo.com or call 727-0797.