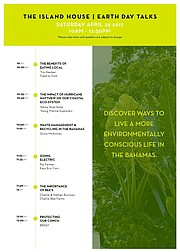 Earth Day 2017 will be celebrated at The Island House on Saturday from 10am until 12.30pm with a series of informative talks on how to live a more environmentally conscious life in The Bahamas.
Topics will cover local organic food production and environmental protection, recycling and waste management, and going electric in transportation.
Pia Farmer of Easy Car Sales ECO division, the only provider of EVs in The Bahamas, will be presenting a video on "What is an Electric Vehicle?" (www.youtube.com/watch?v=FhCF5zIiy3o&feature=youtu.benn) and there will be an opportunity for everyone to test drive a 100 per cent electric Nissan Leaf.
Electric Cars are proven to be less expensive to run and maintain than regular gasoline or hybrid cars, and they are environmentally friendly, as they do not produce harmful emissions into the atmosphere. EVs may be charged by plugging into the electricity grid or from renewables, like solar, and they are also very quiet, reducing noise pollution.
As people become more environmentally conscious, and decide to reduce their carbon footprint, the sale of electric vehicles is growing.
According to Forbes.com, "US EV sales jumped by 37 per cent in 2016 and globally, growth has been even stronger. 
Since 2014 global EV sales have more than doubled".
Bloomberg News has predicted that the 2020's will be "the decade of the electric car" and Bahamians now have the opportunity to switch to electric for cheaper and cleaner transportation, making a difference to our environment.
For more information on The Island House Earth Day Talks visit www.the-island-house.com