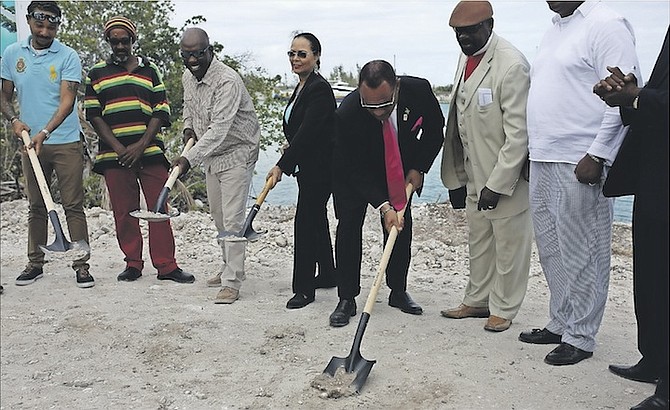 PRIME Minister and Minister of Finance Perry Christie congratulated his friend of many years, Prescott Smith and his business partner Geneva Wilson on the groundbreaking for Blue Hole Marina Village & Andros Island Fuels in Fresh Creek, Andros this week.
He said the event was a testament of their vision and persistence in pursuing their dream to build the first major state of the art marina facility in Andros.
"We encourage such developments (marinas) in our country," Prime Minister Christie said, as he spoke at the ceremony on April 19. "I should tell you that this facility will have 80 slips, which means that it will be among the larger of such facilities and I am assured that the construction and operation of the facility will be at best practices standards for the industry and will include all of the amenities that such a facility should have.
"We can all be confident that it will be among the finest of such facilities all across the Bahamas and will be added to the list of marinas from Grand Bahama and Abaco, Bimini and the Berry Islands and, of course, those in Exuma," he added.
"It is intended to be a one-of-a-kind facility given the wildness and mystique of Andros," Mr Christie said. "This facility will take advantage of all that Andros has to offer."
The marina will provide dockage for 80 yachts with full amenities and security, he said, adding that the development will also create jobs.
"The infusion of new business opportunities created by this development will radiate throughout the Fresh Creek community and all of Central Andros," he said. "One direct benefit for the local community will be a marked reduction in the cost of fuels to a reasonable price and the problem of fuel shortage will be addressed through this investment.
"But allow me to say this: This proposed development for which we break ground today will mean that the people of Central Andros will have to be ready to take advantage of the opportunities that present themselves. There will be direct and indirect opportunities; but above all, you the people of Central Andros will have to be ready and prepared to take advantage of such opportunities," he said.