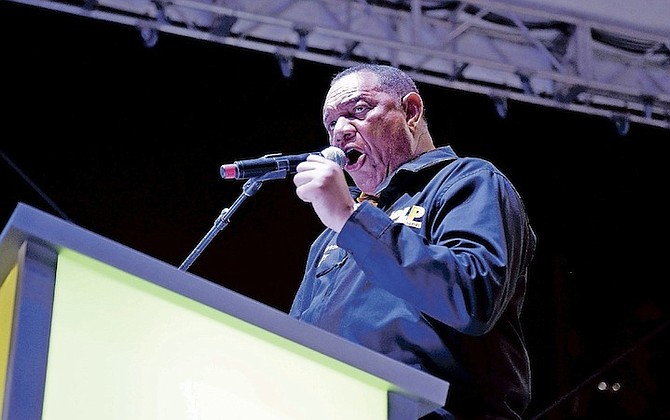 By AVA TURNQUEST
Tribune Chief Reporter
aturnquest@tribunemedia.net
PRIME Minister Perry Christie urged supporters last night to brace for more political "mischief" hours after he sidestepped questions over leaked emails which show that Cabinet minister Jerome Fitzgerald solicited lucrative brokerage, trucking, and limousine contracts from Baha Mar.
Mr Christie did not directly address the leaked email scandal when he took the stage at Arawak Cay for the party's first New Providence mass rally of the
election cycle, and also refused questions from the Tribune earlier that day.
Instead, he told supporters to expect more "clouds of nonsense" from the Free National Movement (FNM) as the opposition party grew more panicked and desperate ahead of the May 10 general election.
"They (FNM) are talking down their country and you must not forgive them for that," Mr Christie said.
"Every right-thinking Bahamian must be aware of the importance of Baha Mar. They are unhappy because Baha Mar is opening and they're throwing up all sorts of clouds of nonsense, they're churning it up everyday hoping to obscure and hide from you the fundamental truth, which is that come tomorrow morning (Friday), Baha Mar is opening its doors for business and I say again it is a triumph for Bahamians," he said.
"It is for me to tell you that what is sad about this is that it shows the moral character of the FNM that they would vote against, talk against, the success of this country."
Mr Christie said: "Instead of thinking about thousands of Bahamians having jobs, they are thinking about how Baha Mar is going to effect their political chances. My friends, brace yourselves, we have not seen the last of their mischief.
"The more that they panic, the more desperate they will become, the more desperate they will become, the more nasty, dirty, crazy, things they will say.
"Prepare for it," he continued, "I try to tell my colleagues I pay them no mind, because when you have the truth and the people on your side, then God is on your side."
Emails leaked from a data breach of China Construction America's (CCA) servers show that from as early as 2013, Mr Fitzgerald was seeking to secure millions of dollars in brokerage, trucking, and limousine contracts at Baha Mar while he sat in Cabinet as the minister of education, science and technology.
In a statement yesterday, Mr Fitzgerald admitted that he spoke with Baha Mar developer Sarkis Izmirlian in person and email over the years. He said his father had engaged in discussions with Baha Mar to get some work before he fell ill, and after his father's sickness, Mr Fitzgerald said he "wrote to Sarkis to follow up on those discussions and seek his assistance."
The government did not release a statement on the matter up to press time, despite repeated media requests.
The narrative of an over-arching smear campaign orchestrated by the FNM and funded by vengeful foreign investors, was a consistent theme in remarks from most of the speakers that took the stage last night.
Deputy Prime Minister Philip Davis, incumbent for Cat Island, Rum Cay and San Salvador, spoke to the existence of a "well-heeled negative campaign against the PLP" that was set into motion when the party took office in 2012. He urged Bahamians to question why the FNM, which he dubbed the "Foreign National Movement," would spend so much money just to make the PLP look bad. He warned supporters to watch the newspapers, adding that they must be "brave" in the face of detractors to proudly defend the party.
For his part, Minister of Foreign Affairs Fred Mitchell declared that yesterday's edition of The Tribune marked the start of "a campaign of lies and obfuscation."
"I don't want anybody to go wobbly," Mr Mitchell said.
"We are not apologetic Negroes. We are not on our knees. We are going to stand up on our hind legs and resist this attempt to subvert the country by people who are representing foreign interests. If nothing else convinced you over the last few weeks, what you are dealing with is the foreign national movement. Today's events in The Tribune ought to tell you that."
He maintained longstanding accusations that the FNM was being funded by Mr Izmirlian, and Lyford Cay billionaire Louis Bacon and lawyer Fred Smith; and further claimed that this newspaper had $100,000 worth of anti-PLP ads in Thursday's edition.
"We need to expose them, we need to follow the money, follow the money trail, it tells you exactly who is behind the Free National Movement."
" . . . The money trail is the same," he continued.
"All of it is coming from one source, the QC in Freeport, he must be exposed, he must show that the money trail leads back to a bitter billionaire who want to get rid of the PLP. We must call the Free National Movement out on this, stop being the 'Foreign National Movement' and represent the interests of the Bahamian people."