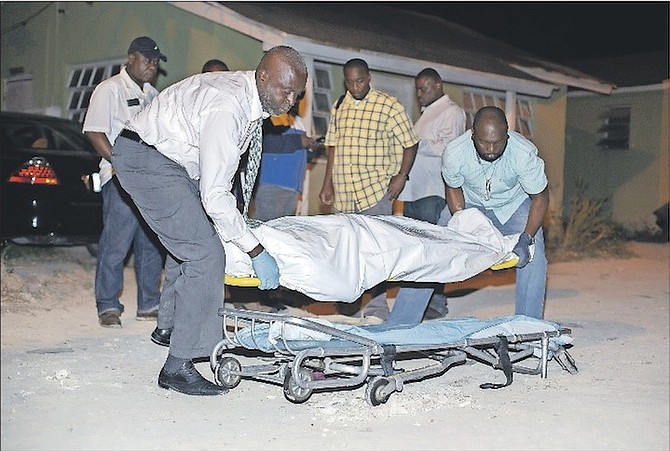 By SANCHESKA DORSETT
Tribune Staff Reporter
sdorsett@tribunemedia.net
THREE men are dead and another man is fighting for his life in hospital after three separate shooting incidents in the capital over the weekend.
The shooting deaths push the country's homicide count to 48 for the year, according to The Tribune's records.
Police arrested three men in connection with one of the homicides, who they say are "responsible for several murders and armed robberies."
The latest killing took place shortly after 10pm on Saturday and marked the fourth murder in New Providence since Thursday.
According to reports, police received information that a man was shot in front a home on Knowles Drive, off Tonique Williams Darling Highway.
When officers arrived on the scene, they found the lifeless body of a man lying on the ground. The victim had been shot several times. He was pronounced dead at the scene.
The second homicide took place shortly after 10pm on Friday off Augusta Street.
According to reports, a man was driving his vehicle in the area of Bola Alley and Augusta Street, when two men armed with handguns approached his vehicle and fired several shots at him before fleeing the area on foot.
The victim was pronounced dead at the scene.
A few hours earlier, shortly after 4pm police were on the scene of another homicide, this time in the Market Street area.
Police said a group of men were standing in front of a car wash on Market Street near Palm Tree Avenue, when the occupants of a dark coloured vehicle pulled up and fired several shots at them before speeding off. Two of the men were shot and taken to hospital. One of the men died shortly after his arrival and the other is listed in serious condition.
Officers chased the suspects into the Ridgeland Park area, where the three men fled on foot from the getaway vehicle.
Officers chased the men once again and caught the three suspects near a bushy area. Police discovered a tech 9 automatic firearm and a .40 pistol along with several rounds of ammunition on the men.
Police believe the three suspects are responsible for several homicides and armed robberies.
Last Thursday a minibus driver was shot in the downtown area of Nassau after being chased by his killers, police said. The man, identified by friends as Hans Neely, was a transportation supervisor at Stuart Cove's and was driving a bus while being chased. When he reached arrived in the downtown area around 7am, the suspects pulled in front of him and fired shots at him, police said. The shooting occurred at East Street north, near Prince George Wharf, an area that is usually populated by tourists, cruise ship passengers and downtown shoppers.
Police have no motive for any of the homicides. Anyone with information on any of these homicides is asked to contact police at 911 or 919, the Central Detective Unit at 502-9991 or Crime Stoppers anonymously at 328-TIPS.
Investigations continue.