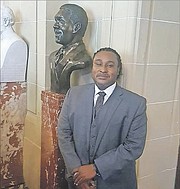 A MARBLE bust of Sir Lynden Pindling, the first Prime Minister of The Bahamas, has been unveiled in Washington, fulfilling a dream for one Bahamian sculptor.
Andret John, who was born in Eleuthera in 1973, the year that Sir Lynden led the country to independence from Great Britain, was present to see his handiwork unveiled last week in the Hall of Heroes at the Organisation of American States (OAS). Mr John, who was born in Eleuthera in 1973, the year that The Bahamas attained independence from Great Britain under the leadership of Sir Lynden, said he was "beyond excited when I got the news of being commissioned to sculpt the bust of Sir Lynden". He said it was a dream of his "for many years to sculpt this national hero".
Dame Marguerite Pindling, the Governor General, unveiled the bust of her late husband while their son Obafemi, director of the Sir Lynden Pindling Foundation, described the memorial as ranking "if not at the top, very near to the top of them all".
"Over the years, my dad has received all manner of awards and honours both at home and abroad," Mr Pindling told the audience of dignitaries and politicians.
"At home, it is somewhat expected that he would be shown love and admiration from those who support him. The cynics would say, 'Well, what do you expect from his supporters?' However, when the international community, especially an organisation as prestigious as the OAS, pays homage, and gives recognition to his achievements, it is overwhelming, to say the least. It gives an even greater sense of pride and appreciation as it lends credence to the old saying, 'It's not what you think of yourself; it is more important what others think of you'.
Recognised as "The Father of the Nation", Sir Lynden was Prime Minister of The Bahamas from 1967 to 1992. Shortly after he returned from Law School in England, he joined the newly formed Progressive Liberal Party (PLP) in 1953 and was first elected to the House of Assembly in 1956. He became Parliamentary Leader of the party after Henry Milton Taylor, the then Chairman of PLP, was defeated in the 1956 general election and was elected the party's Parliamentary Leader. He went on to win successive elections to the House of Assembly from 1962 to 1997.
On January 10, 1967, the PLP and the governing United Bahamian Party (UBP) each won 18 seats in the House of Assembly, but Randol Fawkes (the lone Labour MP) voted to sit with the PLP, and Sir Alvin Braynen, an independent MP, agreed to become Speaker, enabling Sir Lynden to form the first Majority Rule government in Bahamian history.
Sir Lynden went on to lead Bahamians to independence from Great Britain on July 10, 1973. He was knighted by Queen Elizabeth II in 1983. He retired from politics in 1997 and died three years later after a prolonged battle with prostate cancer.