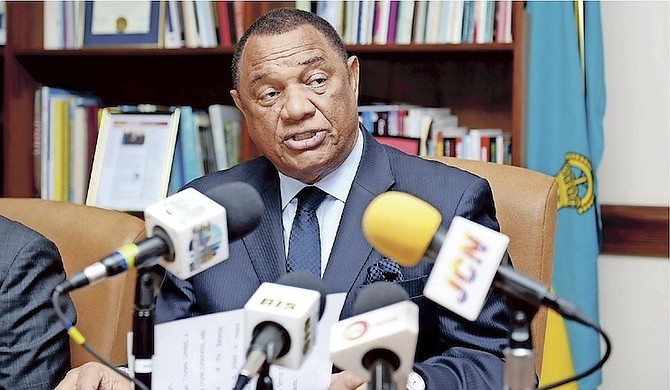 By KHRISNA VIRGIL
Deputy Chief Reporter
kvirgil@tribunemedia.net
PRIME Minister Perry Christie yesterday denied allegations printed in a local tabloid that his son was allegedly paid millions of dollars in realtor commission fees over the sale of the British Colonial Hilton Hotel to China Construction America (CCA).
Responding to a report in The Punch, Mr Christie stressed that it is "crazy" to allege that his son, Steffan Christie, in "one swoop" could have amassed more money than he has earned in his lifetime.
Yesterday it was reported that Mr Christie's son was the real estate agent for Cross & Mosko Real Estate and Development Company when CCA acquired the Bay Street hotel. The report further alleged that Steffan Christie and another employee negotiated the sale and split the commission fee when the transaction was final.
"In today's Bahamas you have to be very careful," Mr Christie said as he began remarks at a ceremony to commission the Broadcasting Corporation of the Bahamas' new 300ft transmission tower. "I belong to one of the most dangerous professions."
He continued: "In today's Bahamas where there is an incredible amount of fake news it is more important for the Broadcasting Corporation to reach its standards and adhere to standards where they can say if I am looking for truth I know who to look to.
"It took me 42 years in public life and 43 years of marriage to earn a worth of what it is today. And then the press could allege that my son in one swoop could have three times the amount of money that I earned in 40 something years or 70 years of my life?
"But this is crazy. That is why I advocate this morning for there to be standards that even when we are down, mired in the depth of politics, we must not leave the standard that is required of a national broadcast corporation.
"You must not lower it. You must protect (it) because it is what is owned by all of the people of the country."
Prime Minister Christie, the PLP's incumbent for Centreville, is among a long list of millionaires and wealthy candidates who are vying for seats in the House of Assembly, according to financial disclosures submitted to the Parliamentary Registration Department.
Mr Christie, according to these disclosures, listed his net worth as $2,029,151, which is roughly the same amount he declared in 2012. He was worth about $2.2m according to his declaration in 2007.
According to the latest declaration, of his assets Mr Christie listed $226,435 in savings accounts, $27,375 in current accounts and $10,000 in securities. He listed $69,878 in accounts receivable and said his home is worth $700,000. He listed a salary of $139,000 with other income as $11,860.