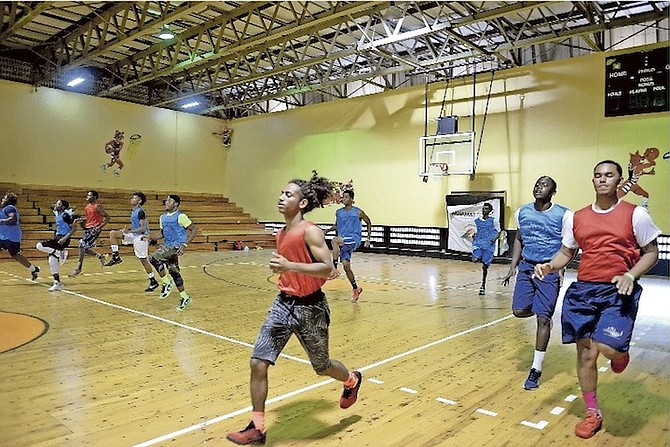 By BRENT STUBBS
Senior Sports Reporter
bstubbs@tribunemedia.net
RODNEY Curry's second annual Top Elite Basketball Showcase is going quite well at the AF Adderley Gymnasium. But the local basketball coach is just a little disappointed in the turnout from the players.
The showcase, which got started on Monday and wraps up on Saturday, is featuring a number of high school and college coaches looking to add some players to their programmes in Florida.
"We are using this as a recruitment tool for players who want to go to college and even complete their high school in the United States," Curry said.
"We have the college and high school coaches here.It's been going good so far, but the high school coaches are looking for the players, but I think the local coaches are not allowing them to take advantage of their window of opportunity to grasp this showcase."
Curry said it's disappointing to know that there are some coaches who are not encouraging their players to come out because the coaches are looking for the talent.
"We want the top 11th and 12th graders to be in the showcase because the coaches here are also connected with other schools and they are looking to help them out as well," he said.
"But so far for the college showcase, we have some talent coming out. Some of the players still lack the basic fundamentals, which tells us that as coaches, we have a lot of work to do to get these players to the level that they need to be at to play overseas."
Here right now to conduct the showcase are coaches Justin Cardoza from Florida National University, Charles Agumagu from St Thomas University and Al Pagues from Inspire Preparatory Academy. They are all looking at different aspects of the programme for various players.
Cardoza, the assistant men's basketball coach for the FNU out of Hialeah, Florida, has coached Jamaal Walker, a 6-foot, 3-inch player who helped their Conquistadors, who made it to their third division one national championship appearance in a row.
"We are looking at the development of their skills and looking at certain kids to see what their grade-point averages are and whether they can fit into our system," he said.
"We're not looking at anything in particular. I'm just trying to get some players to add to our programme. We have a JV (junior varsity) programme, so maybe there is a player who might need to work on certain things."
Back for his second appearance, Cardoza said there is a lot of talent here and he's looking forward to finding some more players like Walker.
"In general, there are a lot of guys who are very athletic here," he said. "It's just finding the ones that have the high basketball IQ and just understanding the game and the certain skill sets that we might need."
This is the first time that Agumagu has visited the Bahamas. The assistant coach, at St Thomas University in Miami Gardens, said the trip here has been so surreal.
"When you've never been to a place, you kind of have something in the back of your head of how it supposed to be," he said. "It's lovely man. I enjoy it. I enjoy the kids I've been around, coach Curry has been a gracious coach and the food is so nice. I definitely enjoy it."
Agumagu, who works under head coach Patrick Gayle on their Bobcats men's basketball team, said he's not here recruiting for size, but rather he's looking for the athleticism that the Bahamian players are known for.
"It's never a question of whether they are athletic or not," he said. "The question is usually do they have the skills set to match their athleticism."
The Bobcats currently include Bahamian Mikhail Rolle, a 6-3 guard who transferred from Broward College after attending Champagnat Catholic High School.
"He's a very disciplined young man who listens and doesn't take constructive criticism the young way," Agumagu pointed out. "That's why I'm here. I'm hoping that I can find a couple more players like Mikhail Rolle."
Pagues, from Inspire Preparatory Academy in Orlando, Florida, is back for his second year but he's concerned that he has not seen the taller players as he saw then.
"The players were bigger and more athletic. They had a better feel for the game. They can play a little longer," he said.
"This year, the players here are athletic, but they are not as talented as what we saw last year. "It's a no brainer because you can teach them basketball. Some of them have the ability, they can shoot and they can pass the ball. They have the complete package."
For his programme, Pagues said he's looking for more size and players who can think on their feet and play real hard. "At my school we do a lot of play development, countless hours of it, so I'm not really worried about the skill set. I like what I've seen. I like what coach Curry is doing. It could really take off."