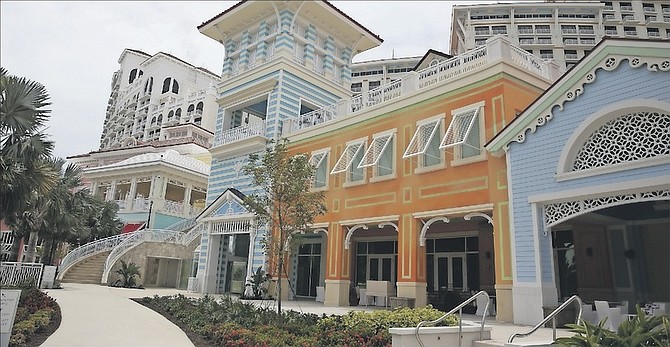 Richard Coulson and his daughter, Amanda, offer different but approving views of a landmark occasion . . .
"What a swell party this is!" sang Frank Sinatra and Bing Crosby 60 years ago in the film 'High Society'.
Last week, Nassau enjoyed another swell party as the vast 1,800-room Baha Mar hotel/casino complex celebrated - finally, but smack on schedule - a so-called "opening reception".
Like any good party, it must have cost a small fortune. Possibly 400 Bahamians and visitors quaffed champagne and downed snacks and sushi for up to three hours. Since no paying guests had yet checked in, it was all expense and no revenue for the owner, Hong Kong's international conglomerate Chow Tai Fook Enterprises (CTFE), flagship of the well-known Cheng family.
But this was no time to quibble about cost. Baha Mar's President, urbane, silver-haired Graeme Davis, a consummate American hospitality executive, has assured us that a phased opening is the professional way to launch, with Grand Hyatt ready to accept a growing tourism trickle starting in May, and the up-market Rosewood and SLS brands during the following months. The Sky Warrior casino, Jack Niklaus Golf Course and Convention Centre are already doing business, which will doubtless grow with aggressive event scheduling.
Last Friday, only the Convention structure could be roamed by eager invited guests. The sweeping entrance halls and arcades, all glass, white walls, and blue carpets, led to the grand ballroom, past the ramps and stairs descending from the Hyatt Tower. We found ourselves in the spacious hall, subtly lit and decorated, with buffets and bars scattered among comfortable lounges - no rigid rows of hard auditorium seating. After ceremonial ribbon-cutting, the guests of honour gathered on the central dais: the Governor-General, the Prime Minister, Mr Davis and Ning Yuan representing the prime contractor China Construction America (CCA). Only two speeches were delivered, both mercifully short and graceful.
Mr Davis led off by noting "the vision conceived over 14 year ago by Sarkis Izmirlian", a generous recognition of the man who preceded him. Many Bahamians, even at Cabinet level, could learn statesmanlike behaviour from Mr Davis' example. On behalf of the Cheng family he went on to extend congratulations to all concerned - Government, Bahamian builders and the 1,700 present employees, the financier Chinese EXIM Bank, and even CCA, who took so much flak for the original Baha Mar bankruptcy but are redeeming themselves with successful completion. Expressing the intention "to continue to contribute to the Bahamian economy", he smoothly introduced the Prime Minister.
Now occurred the day's most startling event - for the first time in living memory, Perry Christie's speech was short! Perhaps restrained by his handlers fearful of controversial ad-libbing in this politicised season, he abandoned his usual verbal extravaganza in favour of a tightly scripted presentation that punched all the right buttons for the upbeat occasion. He did let fly what might be a sly dig at Atantis, as Baha Mar will "appeal to a broader demographic than our existing Bahamian resorts". Baha Mar naysayers have often questioned its success against Atlantis' proven formula, but that's an unlikely concern for any five-star new competitor - and the time-stressed traveller will welcome its closer spot to the airport.
After the speeches, I had plenty of time for Bahamian sip-sip, chatting with friends old and new. BTC Boss Leon Williams told me about the challenges of installing telecoms through the project; former Central Bank Governor James Smith looked relaxed after the tense distribution of over $100 million to compensate former Bahamian staff and creditors (we avoided the issue of payments to foreigners); PLP Chairman Bradley Roberts, resplendent in a yellow-trimmed jacket, spared me a few minutes between vigorous networking with party stalwarts; Danny Liu, resident manager of CCA, was more affable after his disentanglement from Baha Mar's tense history and current commitment to The Pointe's gleaming downtown project.
Education Minister Jerome Fitzgerald made a brief appearance, calm, cool and quiet after the drubbing he received in the local press that very morning. He made no speech, but I noticed he got a warm handshake and abrazo from Mr Davis, who had no involvement in Mr Fitzgerald's earlier indiscretions and doubtless got major help from his Cabinet role in bringing CFTE to Nassau.
One face nowhere to be seen in the crowd was the pugnacious visage of Free National Movement leader Dr Hubert Minnis. Whatever his publicised views, I thought that a prominent public figure would show up, and if a truly astute politician, would have seized a brief smiling arm-clasp with Perry Christie. It is hard to believe that he will earn any political mileage from giving a cold-shoulder to Baha Mar, now becoming a national institution, largely staffed by Bahamians and open for Bahamian enjoyment years into the future. Possibly some critical features will be disclosed once our Attorney-General finally gets around to order unsealing of the contractual documents of sale to CFTE, but their significance will fade before the visible reality of the project and its certain contribution to our national image and to our Gross Domestic Product.
• Richard Coulson is a retired lawyer and investment banker born in Nassau and from a long line of Bahamians. He is a financial consultant and author of A Corkscrew Life - adventures of a travelling financier.
The importance of art recognised
It was an extremely exciting and pleasant surprise to see that Bahamian art was still front and centre of this mega-resort on its opening last Friday.
Since this concept was specifically conceived and promoted by Sarkis Izmirlian, many of us were sceptical that this vision would be carried over under the new management.
Fortunately Graeme Davis, after a long career with the Rosewood brand, understands that art is not mere decoration but rather an important vehicle to attract the high-end travellers who form a crucial part of the "Orange Economy" and who spend far more dollars per day than your average cruise ship passenger.
Mr Davis therefore re-hired John Edward Cox as Baha Mar's Creative Director to continue the work of running an in-house art department, dedicated studio spaces and an art gallery, entitled The Current. Aside from the large-scale unique commissions, smaller artworks and rights for Bahamian prints and editions in all the hotel rooms were purchased in 2012-2013.
As recently as a few weeks ago, original works were still being snapped up from artists' studios and the National Art Gallery of The Bahamas' most recent National Exhibition to continue to fill the lobbies and public spaces.
On a tour of the Convention Centre, the Casino, The Current and various restaurants, bars and lobbies of both the Hyatt and the Casino Hotel, we were able to view the depth and breadth of this commitment to Bahamian art. The first thing to see walking directly into the Casino is a stunning bar dedicated to the celebrated artist Max Taylor with three colourful, large-scale paintings that pay tribute to the vibrancy of our long-gone native music clubs and bars.
Walking around the Casino, the vistas visible through the rows of one-armed bandits give onto glimpses of large-scale works by abstract expressionists Kendal Hanna and Tessa Whitehead, as well as intricate collage assemblages by Lillian Blades and wall hangings by April Bey. Behind the golden gates of the cashiers' cage were three specially-commissioned pieces by Hanna, featuring spades, hearts and other symbols of the surrounding green-felt gaming tables.
At the back of the casino we found a delightful cigar bar - an indoor-outdoor space - replete with regal awnings and giving out onto the breathtaking terraces, behind whose bar was a succulent oil painting by Lynn Parrotti. With the colours of the ocean and the flaming pink flamingos, it lightened the mood and toned down the colour scheme from the overstimulation of the Casino to the calmness of the Caribbean. This calmness was also continued while moving towards the Hyatt's lobby, whose themes of turquoise and white were complemented by abstract artworks by Toby Lunn and Antonius Roberts.
The reception desks are framed by a monumental artwork, repeating Cox's meditative motif of the circle, which symbolises balance.
Clearly, every attempt is made, through colour choices and artwork, to return visitors back to a sense of peace after leaving the frenzy of the gambling arena.
The "3 Tides" restaurant was named by the art department, both for the three meals per-day they will serve as well as for the three artists it represents (Stan Burnside, John Beadle and Roberts) with 10 to 15 artworks by their artists' collective, known as Jammin'. If all this weren't enough, a trip to the Convention Centre is like a Bahamian art history class: from the older generation of the original masters Brent Malone, Amos Ferguson, the Burnsides, Hanna, et al, there is also a large-scale commission by a fledgling artist who only recently won the coveted Central Bank Art Prize, Jordanna Kelly.
The experience, however, was not without disappointments. Formerly the ballrooms had been named for private collections, whose donors had agreed to lend their Bahamian art to the hotel; these names have been hastily removed and replaced with uninspired titles, since the relationships had soured after the original closure. Many of the initial team at The Current, who were laid off suddenly during that infamous June, 2015, bankruptcy filing, are not there to enjoy or take pride in their work, with many faces and works of art missing from this momentous present day.
Still, it is a testament to the Baha Mar brand that it continues to look to our local art scene for inspiration in generating an exciting venue for a new tourist product.
• Amanda Coulson Voges is Director of the National Art Gallery of The Bahamas.