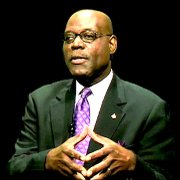 By KHRISNA VIRGIL
Deputy Chief Reporter
kvirgil@tribunemedia.net
THE government does not yet have a timeline of when repairs will be completed on homes damaged as a result of Hurricanes Joaquin and Matthew, which ravaged part of the country in 2015 and 2016.
According to press secretary Anthony Newbold, while it is certain the homes must be repaired there will be no hurricane czar as was the case during the Christie administration.
He said the National Emergency Management Agency (NEMA) and the Ministry of Works will oversee these efforts.
During a press briefing yesterday, Mr Newbold said as each member of Parliament has received their $100,000 capital grants, the public should see some repairs to homes shortly.
"(We) don't have a timeline yet," Mr Newbold said.
"We just got budgets and ministers can start to get to work. I imagine we will see some of that happening now. For example, as I said the constituency allowances are now available (and) the parks and beaches board has now been constituted. I spoke to the minister of the environment and he says 'listen we are ready to go with this thing'.
"The next thing they are going to be addressing (is) the dump. As I said the prime minister convened a ministerial committee to deal with the dump. Again it's taken time for these things to happen, but they are happening."
Regarding the capital allowances, Mr Newbold said checks and balances are in place to ensure these public funds are spent properly.
"All MPs should now be in possession of their constituency capital grants. The act came into force on July 1. So there should be some work starting soon in a lot of these constituencies. These grants are for development in the various constituencies. Those developments could include the maintenance of roads and parks, beautification or anything else to do with development, education or culture.
"This annual grant is in the amount of $100,000. It's not to be used for anything political. Like political meetings, fundraising, payments, maintenance, upkeep, salaries or any other expenses related to a constituency office."
He continued: "For each development from a member of Parliament a proposal must be advanced with quotations, any required approvals and permits and, of course, a tax compliance certificate for the person who is carrying out the project.
"The minister of finance, the deputy prime minister is the only person who can authorise such a payment and proper accounts must be kept because a report must be prepared for the Auditor General at the end of each fiscal year."
Last week, NEMA director Captain Stephen Russell said nearly 2,000 homes have still not been repaired.