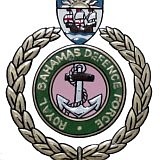 FIVE individuals are counting their blessings after they were rescued from their sunken vessel Thursday morning.
While on routine patrol, Royal Bahamas Defence Force patrol craft P-128 under coxswain Petty Officer Bernard Cash came upon a 30-ft craft approximately 18 miles south of New Providence.
The vessel was already filled with water with five men sitting on top. The quick-thinking marines rescued the men moments before their vessel sank.
The men were grateful and thanked the coxswain and crew of P-128 and the Royal Bahamas Defence Force for saving their lives, according to a statement from the law enforcement agency.