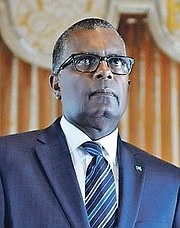 By KHRISNA VIRGIL
Deputy Chief Reporter
kvirgil@tribunemedia.net
IN the wake of calls from Prime Minister Dr Hubert Minnis for the Progressive Liberal Party to say "sorry" for the actions of the Christie administration, PLP Senator Fred Mitchell is adamant the only apology he will offer is to former Prime Minister Sir Lynden Pindling for allowing the country to be turned over "to a set of gangsters and crooks dressed up in white gowns" calling themselves the government of The Bahamas.
While the former Fox Hill MP said he could not speak for the former governing party, Mr Mitchell said the prime minister will get "no apology from me".
His comments came while speaking to PLP supporters at a branch meeting in Bailey Town, Bimini on Wednesday night.
A day earlier, Dr Minnis told reporters that while he appreciated PLP Leader Philip "Brave" Davis' admission the opposition party made mistakes during its last term in office, he was still waiting to hear "a real apology".
Dr Minnis said he listened "attentively" to Mr Davis' address to the nation on Monday night and said he noticed the words "I am sorry" were missing.
"I saw some headlines saying that the prime minister wants an apology from the Progressive Liberal Party," Mr Mitchell said Wednesday night.
"Now I can't speak for the Progressive Liberal Party, but let me tell you what my personal position is: he'll get no apology from me except this one. I want to apologise to Lynden Pindling for allowing this country to be turned over to a set of gangsters and crooks dressed up in white gowns calling themselves a legitimate government of The Bahamas. That's what I want to apologise for.
"I don't know how we let it happen. We shouldn't have let it happen and we have to work to overturn this because if we are not careful, and some people have already to pronounced this, if we are not careful we have reversed ourselves (and) all of the progress that has been made from '67 to the present.
"We are at risk of reversing ourselves to a pre-1967 period. So that's the fear I have. So I apologise to the man who has gone on above because we have some work to do to get back to where we were."
In his national address Monday night, Mr Davis admitted the former government was not perfect, made "serious" mistakes and lost the "trust" of Bahamians, but offered no outright apology for the missteps of the previous Christie administration.
Instead, he sought to justify the former governing party's actions saying that during its last term in office the Christie administration was always thinking of the people affected by its policies.
At the time, Mr Davis said: "Our previous administration was not perfect.
"We made mistakes, including some serious ones. But we were always especially mindful of the people impacted by our policies - we did not and do not think in terms of statistics, but in terms of individuals, people, families, neighbours, friends. We know the people who will be helped when the government does good, or harmed by an ill-considered government slash-and-burn policy.
"In considering the human impact of government policy, we have always been steadfast. The frustration and sense of hopelessness amongst our 'poorly-guided young men' will only grow if the government cuts off their educational, economic and social lifelines, and its expression through criminal activity will only increase," he said, referring to the government's announced austerity measures.