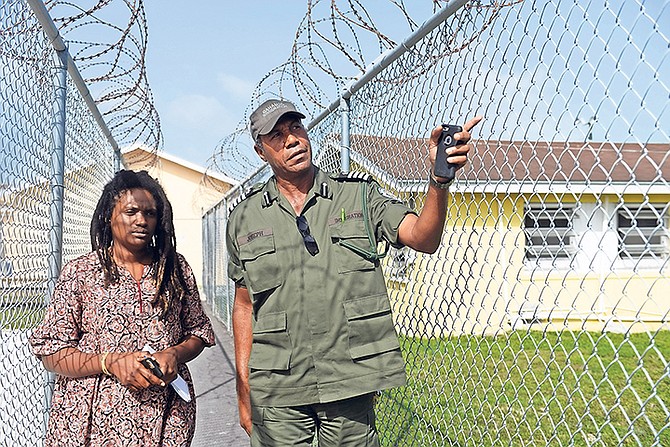 By AVA TURNQUEST
Tribune Chief Reporter
aturnquest@tribunemedia.net
EIGHT migrants were released from the Carmichael Road Detention Centre on Friday, including a Kenyan man who had been held for six years without charge.
Immigration Director William Pratt confirmed the migrants were released, but declined further comment on the matter.
The Tribune understands the migrants are six Cuban men, a Nigerian man and a Kenyan man.
According to sources close to the matter, the men released included migrants whose detention status were reported by The Tribune last week, including the stateless man of Cuban descent who served in the US Navy and had been held for more than a decade in two periods.
Another released migrant was a Nigerian amputee who was held for three years.
On Thursday, The Tribune toured the Carmichael Road compound with Superintendent Peter Joseph, who addressed allegations and criticisms leveled against operations at the CRDC, specifically the processing and treatment of migrants.
The CRDC has a staff complement of 39 officers, according to Supt Joseph, who said the recent increase of 16 officers to the minimum-security facility was satisfactory.
"It's very difficult," he said, "we have increased our staff complement to try to attend to persons' needs and we are also making some improvements in how we operate. We want to try and see if we can do a better job of the way we do the food, how we provide the meals. "We've also ordered new bedding, going to refurbish all the dorms. All of these things are in progress," he said.
Last month, the facility experienced severe overcrowding due to back-to-back apprehensions that saw the number of detainees swell to over 400 persons.
There are four dorms at the facility with a maximum capacity of 80 persons; however, one dorm is currently being used as a temporary medical clinic. Two dorms are designated for men, and one dorm is reserved for women.
Mothers and children are kept at a separate facility, which has been temporarily suspended due to a contractual dispute over the use of the building.
Supt Joseph confirmed that there were no minors currently being held, adding that the dispute should be resolved in a matter of days.
Referring to critics of mass deportation exercises, he said: "We had over 400 migrants, that's why we had to get those (deportation) flights out. If they come faster than we can get them out, there is nowhere else to put them.
"So, we're damned if you do, damned if you don't."
He added: "You can hold a person indefinitely on a deportation order, but we don't try to make that a practice because again it's our objective to get you out as quickly as possible. So, it's not our practice to want to serve a deportation order on you because that's an indefinite situation."
Since taking the post last year September, Supt Joseph said he has been working to resolve the backlog of "long-term detainees" and enforce strict operating guidelines for both officers and detainees.
A hallmark of his steps to increase accountability and transparency was said to be the installation of additional CCTV monitoring.
He pointed to major upgrades underway, like the construction of a medical clinic and refusal dorms, and the refurbishment of existing dorms; and scheduled projects to create an exercise and recreational space; and to outfit and reopen the onsite kitchen.
Refusal dorms are meant to accommodate persons that are denied entry into the country, but still have to be held overnight.
Supt Joseph implored the public not to demonise the role of immigration officers and operations at the CRDC as he spoke of plans for modernisation and expansion of the facility.
"I can't accommodate that and I won't stand for it (allegations of mistreatment)," he said.
"The director, when he appointed me to take over this facility, the one thing I could assure him was that I would take this to another level, and that is definitely what I intend to do.
"There is always going to be stories about the no soap, and the no toothpaste, so I don't know how I'm supposed to combat that. I can take you in the storeroom now and show you cases of soap, cases of toothpaste."
Supt Joseph said: "We're accustomed to it by now. Although I've only been here for a short time, but I've come to realise that is just something that we have to live with because of the perception that the public has of this facility."
When he spoke to The Tribune on Thursday, Supt Joseph estimated there were between ten and 11 long term migrants currently at the facility.
He said: "(The migrants), they're the ones who are frustrating the process, they're the ones who don't want to go home. They don't want to go back so they'll give you any story. Every time you interview them there's a different story.
"The stories are gonna change. They will give you different names, they don't give you information that will help you to help them.
"Especially when you're talking about persons from African continent," he said, "when they're trying to get to where they want to go. If they leave it's not as if that's Jamaica or Haiti, there's no coming back (to) what they've gone through to get this far.
"It's just too far and the cost is way too much. So that is not the route that they want to take, their route is forward no matter what the cost."
He added: "This small group that I had to deal with when I came here, that is in the process of being dealt with and will be dealt with, that ain't ga happen again.
"I don't care what part of the world you come from, when you end up in here you ain't ga be no long-term."