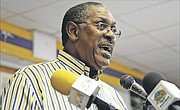 PLP Chairman Bradley Roberts said the Free National Movement has no moral authority to demand an apology from anyone, as he called on Prime Minister Dr Hubert Minnis and the FNM to apologise on behalf of the governing party for what he sees as various transgressions and misdeeds over the years.
In a statement released on Monday, Mr Roberts among other things called on Dr Minnis to "practise what he preaches" and apologise for sitting around the Cabinet table when the Ingraham administration negotiated the "fire sale" of the Bahamas Telecommunications Company.

Mr Roberts painted the "assortment of characters" that make up the Minnis team as being unsavory.
"The FNM will dig your eye out while denying any knowledge of the same," Mr Roberts claimed. "They are the adulterous woman King Solomon described in the book of Proverbs:
'Such is the way woman. She eateth, wipeth her mouth and says I have done no wickedness.' They continue to prance around like peacocks telling the Bahamian people they are as pure as the driven snow while pointing the finger of accusation at everybody else.
"Minnis must deal honestly with the (alleged) corruption within his ranks first before pointing the finger. If he says he is cleaning corruption in government, then he must act accordingly. This political charade and PR stunt he is orchestrating is nothing more than a corrupt abuse of state power to persecute his political opponents for purely political reasons," Mr Roberts added.
"Minnis must also not be allowed to get away with this nonsense about the PLP should apologise. The FNM is in no moral position to demand an apology from anybody. They should be busy atoning for their sins perpetrated on the Bahamian people. The devil cannot get away with calling everybody else a sinner while his sins go unchallenged and unpunished.
"The devil is always in the details just as the devil is in fact a liar."
Last week, Progressive Liberal Party Leader Philip "Brave" Davis admitted his party made mistakes and lost the public's trust during its last term in office, but did not give an outright apology for the PLP's actions.
In response, Dr Minnis said he was waiting on Mr Davis to say the words "I am sorry" for the decisions of the Christie administration.