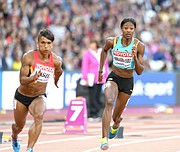 By BRENT STUBBS
Senior Sports Reporter
bstubbs@tribunemedia.net
LONDON, England: With her place already booked in the 400 metre final, Olympic gold medalist Shanue Miller-Uibo moved one step closer to claiming the other half of the 200/400 metre double by advancing to the 200m semi-final.
In Tuesday's preliminaries of the 200m at the Queen Elizabeth Olympic Stadium, Miller-Uibo pulled away from the field in the fourth of the seven heats in 22.69 seconds to win with the second fastest qualifying time. She trailed only defending champion and this year's 100m bronze medalist Dafne Schippers, who won heat one in 22.63 ahead of fellow Bahamian Tynia Gaither, second in 22.98 for ninth overall.
Anthonique Strachan, working back into form, also qualified in the 14th spot after she placed third in heat six in 23.23.
For Miller, it was just a matter of getting through the first round as quickly as she could so she could take some time to get ready for the 400m final tonight at 4:50 pm EST.
"I felt good. It was the same old thing, just trying to save as much energy as possible for the final," she said. "I felt pretty good. It was a little cold, but it was okay."
With the semifinal of the 200m set for Thursday, Miller-Uibo said she wants to get the 400m out of the way first and then she will concentrate on the half-lap race where she hopes to have some fun. She will run out of lane seven in the second of three heats with Jamaican Simone Facey trailing her in six.
She has her work cut out for her in the one-lap race tonight – it's her third epic showdown with American Allyson Felix. They pair have a head-to-head tie after their last two meets - Felix winning the last championships in Beijing, China, while Miller-Uibo turned the tables at the Olympics last year in Rio de Janeiro, Brazil. Schippers said she will be waiting for their match-up in the 200m.
"I'm feeling good. I'm felling great. She's a great athlete," Schippers said. "We will see if she wins the 400m. I don't know if it's possible to do the 400 and the 200. I feel very good in this moment. There are a lot of people that can run fast. I'm focused on my own races and I'm very happy about this race and moving on to the next one. It doesn't matter who is in the final."
Miller-Uibo's training partner, American Tori Bowie, had to withdraw from the 200m due to bruises she sustained in winning the 100m gold medal. It was a similar scenario for Miller-Uibo last year when she fell and dove ahead of American Allyson Felix for the Olympic gold in the 400m in Rio.