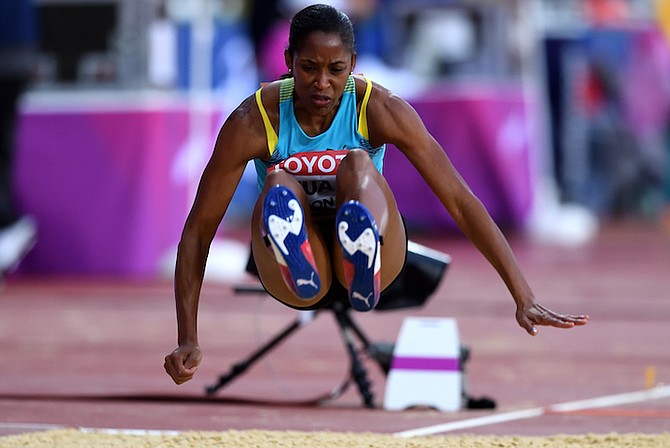 By BRENT STUBBS
Senior Sports Reporter
bstubbs@tribunemedia.net
LONDON, England: Bianca Stuart's fourth trip to the IAAF World Championships was certainly not what the national long jump record holder had anticipated.
She was so disappointed in her 29th position overall with a best leap of 5.91 metres or 19-feet, 4 3/4-inches that she could hardly utter any words in her post-event speech.
"I'm not sure. I don't know what happened," she said.
Competing on a rainy Wednesday in the Queen Elizabeth Olympic Stadium, Stuart struggled through the 14-woman field in Group B. She opened with a leap of 4.25m (13-11 1/2) on her first attempt, fouled her second, but managed to soar to 5.91 (19-4 3/4) on her final attempt. But that wasn't enough for her to advance as she finished 13th and saw Great Britain's Lorraine Ugen clear 6.63m (21-9).
"I don't want to blame anything on the weather," said Stuart. "It didn't go as well as I would have liked it to, but I thank God for allowing me to still come out healthy."
Stuart, 29, was one of three Bahamians invited to compete in the 16th edition of the championships after she failed to qualify. She competed in her initial event in 2011 in Daegu, South Korea where she was 17th with 6.44m (21-1 1/2). In 2013 in Moscow, Russia, she placed 24th with 6.35m (20-10) and followed that with a 25th showing in Beijing, China in 2015 with 6.34m (20-9 3/4).
The 2015 Pan American Games' silver medalist in Toronto, Canada, holds the national record with a leap of 6.83m (22-5) two years ago at the BAAA's National Championships at home and she came into the championships with a season's best of 6.67m (21-10 3/4) on May 28 in Fairburn, Georgia.
She said she will contemplate whether or not she will go to the Commonwealth Games next year in the Queensland, Australia where she will get an opportunity to improve on her eighth place in Glasgow, Scotland in 2015.
"I'm just taking it one day at a time. This is just another stepping stone," she summed up.