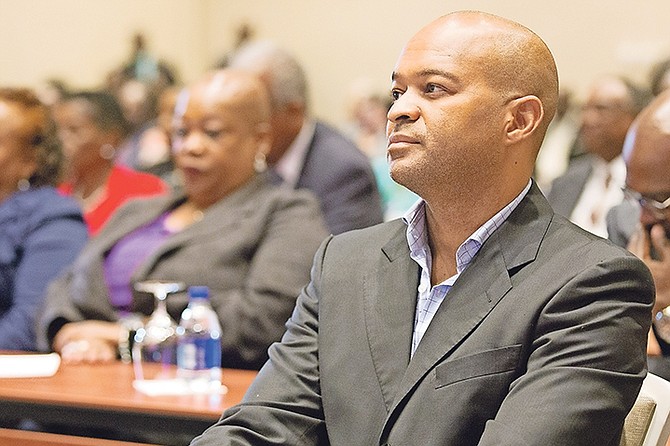 By RICARDO WELLS
Tribune Staff Reporter
rwells@tribunemedia.net
CENTREVILLE MP Reece Chipman is facing a $2,500 lawsuit stemming from alleged unpaid wages to a campaign worker.
Sean Maycock, in a claim filed August 2 in Magistrate's Court, alleged that from mid-February up to the May 10 general election, there was a verbal agreement he would provide various services to the campaign efforts of Mr Chipman in exchange for a weekly wage of $200.
Mr Maycock insisted a written contract was proposed, but the opportunity never came for a document to be signed.
According to the claimant, over the course of the nearly three months he was employed by Mr Chipman, he allegedly acted as a poll worker, landscaper, general cleaner, lead organiser and general campaign worker.
"Assurances were given that all would be taken care of," he told The Tribune. "We were all told the same thing. A number of us received the same assurances."
Mr Maycock added: "The sad thing about this ordeal is I didn't want it to come to this because (Mr Chipman) and his success in May represents change. Too bad he is just more of the same."
In the claim presented to The Tribune, Mr Maycock is seeking $2,400 in unpaid wages and $100 to offset the cost of filing his claim.
When contacted for comment on the matter, Mr Chipman -- who was recently appointed chairman of the Antiquities Monuments and Museum Corporation (AMMC) board of directors -- initially denied knowing Mr Maycock, but later suggested the claimant was known to his campaign.
Mr Chipman told The Tribune his campaign team did not offer paid positions in the buildup to the general election and only offered "help" where they could.
"There was no commitment in terms of a payroll. During the campaign, you don't make promises to pay, you say if you need help with something. What we try to do is, we may, if we can, provide assistance," Mr Chipman said.
"We provide breakfast, lunch, dinner in some instances, which he was a part of," he insisted.
The matter is expected to be heard on August 17.