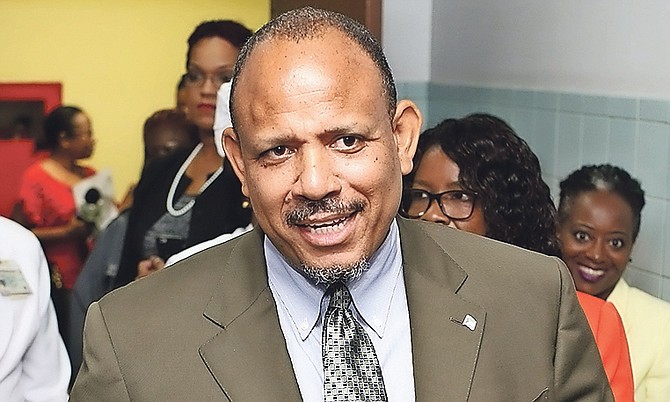 By SANCHESKA DORSETT
Tribune Staff Reporter
sdorsett@tribunemedia.net
HEALTH Minister Dr Duane Sands said the planned renovation for the Maternity Ward at the Princess Margaret Hospital is "not good enough" and he is pushing for a new ward to be built rather than "attempting to upgrade" the old existing building.
In an interview with The Tribune, Dr Sands said the hospital needs to move into the 21st century and while the new plan for the Maternity Ward is "reasonable, we can do better."
Last year, the former Progressive Liberal Party government signed a $14.9m contract for the renovations of the Maternity and Male Surgical Wards at PMH.
In opposition at the time, Prime Minister Dr Hubert Minnis advocated heavily for the upgrades to be delayed as he felt the timing of renovations would negatively impact patient care.
However, then Prime Minister Perry Christie said at the time the Maternity Ward has not been renovated for over 50 years and women should not be forced to give birth in "undesirable" circumstances because previous governments did not have the will or the finances to upgrade the facility.
During a tour of PMH shortly after winning the election, Dr Minnis promised a new maternity wing.
While he was short on details, he stressed that Bahamian women and children deserved the best and declared that the new wing would be on par or greater than the multi-million-dollar Critical Care Block.
"There are things we need to do to get the ward up to standard, having beds is one of them so women don't have to be discharged from the hospital as quickly as they are and we will be at an accepted standard with the rest of the world," Dr Sands said.
"Right now, parents cannot stay in the hospital with their sick babies, with their sick children, except on the private ward. In Doctors Hospital, the rule is that you have to stay with your child, right next door they can do that but parents in PMH do not have that comfort. We are fixing that in the renovation but to be candid I don't believe that the planned development goes far enough, it just is not good enough.
"What we need to do is to move our care into the 21st century. The original plan was reasonable but I am not convinced it's good enough."
Dr Sands said he is pushing towards a new maternity wing, not just renovating the existing space.
"The issue is how to get the money and how to do the ward in a fiscally responsible fashion. Now that the new board is empaneled and these ideas will be developed in earnest and we will flesh out these plans. There is an awful lot to be done. I spoke with the prime minister about moving on some of these issues in health. There are a lot of demands and the people's perception on quality of life hinders on the level of health care we are able to provide. We have to be creative and get it done and because certainly what exists now is unacceptable. It is the best we can do now, but what we are saying is acceptable for the people is nothing short of embarrassing."