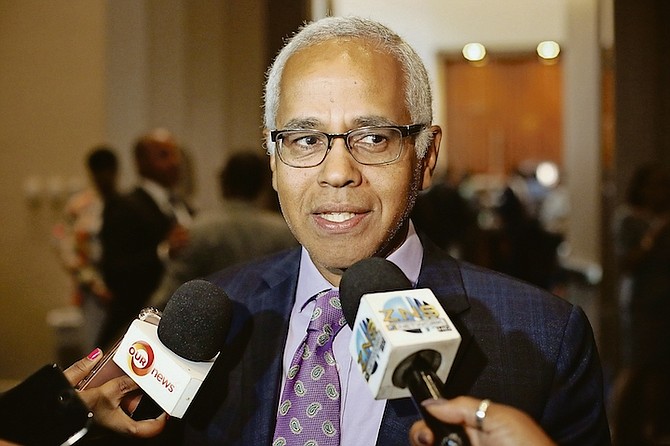 By SANCHESKA DORSETT
Tribune Staff Reporter
sdorsett@tribunemedia.net
TOURISM Minister Dionisio D'Aguilar said because crime is "such an enormous problem" in New Providence, his ministry is "deathly" afraid every day that a tragic event will happen and the United States will issue another travel advisory.
Addressing tourism stakeholders recently at the Hilton, Mr D'Aguilar said visitor safety is a critical concern and the Ministry of Tourism will work with hotels and the Royal Bahamas Police Force to improve "interaction and provide a safer environment."
"Safety is a major concern of the tourism sector and we are deathly scared every day of some tragic event happening and the United States putting out a travel advisory," Mr D'Aguilar said.
"We in the Ministry of Tourism are going to interact with hotels especially at the particular facilities so that we can improve interaction with the police force.
"The Ministry of Tourism has a lot of events and I noticed that even though the ministry is paying for them, they are basically turning into great big parties for Bahamians and not turning into exponential events for our visitors. One of the things we have to do is ask ourselves why the hotels are not sending them there and one of the questions they are going to ask is 'Is it safe for our guests?' We have to ensure that it is a safe and fun environment for our visitors. It is a concern. Crime and safety is an enormous social problem here and it affects everything that we do."
Last week, an international travel site listed the Bahamas as the sixth out of ten most dangerous places for unaccompanied women travellers to visit.
Trip.com, in a recent survey, listed the Bahamas just behind Peru and ahead of Colombia on its "Least Safe Countries for Solo Female Travellers".
The story was picked up by popular international business magazine Forbes and published on its website Forbes.com.
The Forbes report also used information from a recent US State Department warning over New Providence's crime rate.
In that report, the US State Department lists the criminal threat level for New Providence as "critical," while also acknowledging an increase in criminal activity in Grand Bahama "this past year."
In June, responding to a controversial video circulating on social media encouraging prospective visitors to avoid New Providence to preserve their own safety, Mr D'Aguilar said his ministry will "redouble" its marketing efforts to counter the "false information" contained in the video.
Still, at the time Mr D'Aguilar admitted that New Providence "is not something that we should be proud of," adding that he is "unimpressed" with the experience cruise visitors have when they arrive at the Port of Nassau.
Mr D'Aguilar, in regretting the current state of affairs in New Providence, stressed that "our tourist product needs some work."
There have been a spike of homicides over the past few weeks, with the most recent involving two men who were killed over the holiday weekend, one of whom was killed less than a month after he was released on bail.