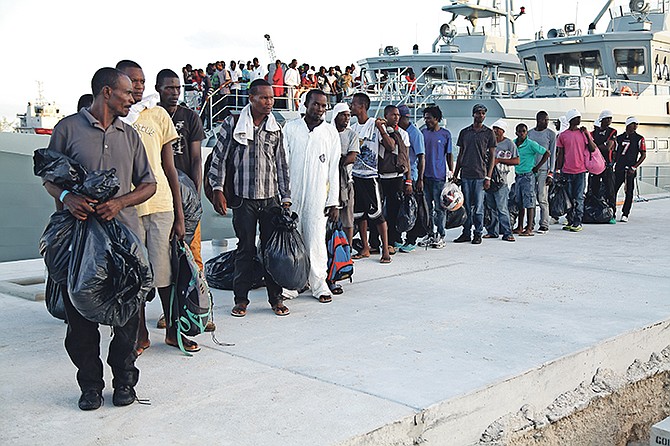 MORE than 150 Haitian migrants were apprehended in waters off Ragged Island last week, according to law enforcement officials.
According to a statement released by the Royal Bahamas Defence Force Public Relations Department on Sunday, some 151 Haitian migrants were apprehended in two separate incidents between August 9 and 11 in waters of the southern Bahamas.
This brings the number of apprehended Haitian migrants to more than 640 for the year, officials added.
"On August 9, the US Coast Guard vessel with a defence force ship rider on board apprehended 73 Haitian migrants aboard a freighter," the statement said.
"Under the Comprehensive Maritime Agreement between the US and The Bahamas, defence force personnel are permitted to conduct tours of duty aboard US Coast Guard vessels and to arrest persons engaged in illicit activities in Bahamian waters.
"A Coast Guard vessel also apprehended a second group of 78 persons on August 11 in waters north of Ragged Island. All migrants apprehended in both incidents were subsequently transferred to the defence force patrol vessel, HMBS Arthur D Hanna, under the command of Lieutenant Commander Berne Wright for transport to New Providence.
"This latest group brings the total Haitian migrant count apprehended in Bahamian waters for the year to over 640 as a result of (the) defence force conducting its own patrol operations, as well as RBDF joint operations with the Bahamas immigration and US Coast Guard authorities," the RBDF said.
"The 151 undocumented migrants arrived earlier this morning (Sunday) at Coral Harbour and are currently under the supervision of Immigration officials for further processing," the RBDF added.
Just last month, on July 30, the RBDF, assisted by the Royal Bahamas Police Force and the Dept of Immigration, apprehended 57 undocumented Haitian migrants onboard a 30ft wooden sloop off Humming Bird Cay near mainland Exuma.
Then on July 25, 120 Haitian migrants were apprehended off Long Island.
On July 3, a Haitian sloop was intercepted on the Great Bahama Bank west of the Exuma chain by Her Majesty's Bahamian Ship Lignum Vitae under the command of Senior Lieutenant Bertram Bowleg around 2am. The vessel was subsequently boarded and searched resulting in 69 migrants (58 males, ten females and a child) being apprehended.
The wooden vessel was initially sighted by a RBDF surveillance aircraft piloted by Chief Petty Officer Gregory Storr earlier that day when HMBS Lignum Vitae, which was on routine patrol at the time, was directed to intercept.
The migrants were taken to New Providence and turned over to immigration officials for further processing.
According to statistics, the Department of Immigration arrested 7,357 persons in 2016. Of that figure, 6,869 persons were deported and 488 foreign nationals were released.
In 2015, 4,957 persons were arrested, 3,730 were repatriated and 571 were released.
Haitian nationals were the highest number of repatriations with 5,241 for 2016. The figure represents a 65 per cent increase over 2015's total of 3,183 persons.
Repatriations of Chinese nationals increased by 16 per cent in 2016 with just 10 more persons repatriated over 2015's total of 63.
Repatriations of Jamaican nationals decreased by 35 per cent in 2016, with 217 nationals, over the 2015 figure of 333 nationals.