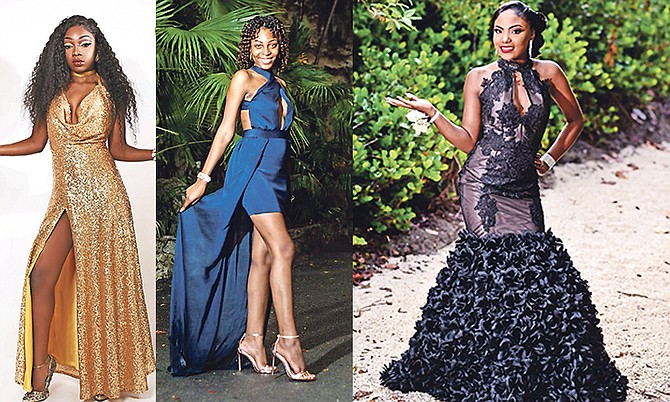 By ALESHA CADET
Tribune Features Reporter
acadet@tribunemedia.net
AT only 21 years old, Anthonique Black is living her dream within the Bahamas' fashion community.
Creating custom made designs for family and friends over the years has led her to build on her passion for sewing and she is now creating gowns through her home-based company called Beauletha Designs.
Her designs have been featured during prom season, christenings, funerals, weddings, special occasions, and just recently, as part of the Miss Bahamas World pageant experience, where her dress came second in the Commonwealth Fabrics BTVI designer showcase.
"Although it was a lot of pressure I enjoyed the experience. It was fun and it allowed me to see and feel what designers go through. It was a wonderful experience sewing for Miss Bahamas World competitor Nyisha Tilus as Miss University of the Bahamas," she told Tribune Woman.
"I don't do it for the money or because I'm good at it, I do it simply because I enjoy doing it."
Anthonique believes sewing comes naturally to her because her grandmothers were knowledgeable in the craft.
"A year after graduating high school I decided to enrol in Fashion Production at BTVI, and I've been sewing ever since. I started my Beauletha Designs Facebook page in 2016 where I started to post some of my work. This page not only brings me more clientele but it's a great way to show the world my talent and what I am capable of doing. It makes me proud knowing that I can make someone feel so stunning and nice on their special day," said Anthonique.
Her goal is to one day host an official Beauletha Designs fashion show. Based on the feedback received thus far regarding her designs, Anthonique said Bahamians are in full support of her endeavour.
"People admire and enjoy my designs. Whether you want a nice dress or gown, suit or a two-piece skirt and blouse set, the choice is yours. My company is home-based in Sir Lynden Pindling Estates off CW Saunders Highway," said Anthonique.