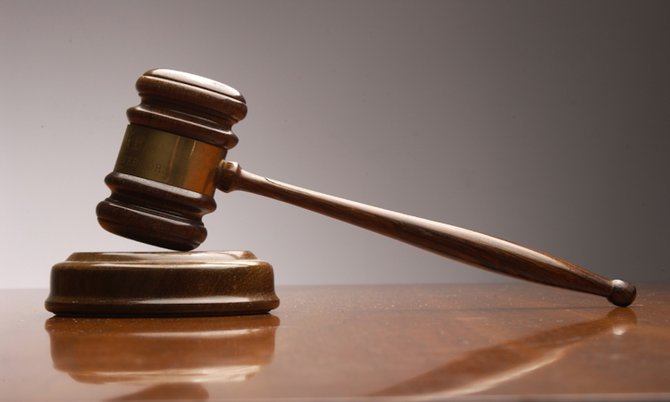 By NICO SCAVELLA
Tribune Staff Reporter
nscavella@tribunemedia.net
A SUPREME Court judge yesterday sentenced a man to 20 years in prison for the fatal stabbing of a banker he claimed had made a sexual pass at him in late 2015.
However, Senior Justice Vera Watkins said one year and three months would be deducted from 26-year-old Lamar Albury's sentence for the time he has already spent in custody.
The sentence starts from the date of Albury's conviction on March 8, 2017, Senior Justice Watkins said. On that date, a jury returned a 10-2 guilty verdict for manslaughter by provocation concerning the 33 stab wounds Albury inflicted on Devince Smith.
Albury had denied the murder charge against him. However, thirty seconds after the jury forewoman's announcement that the Chippingham resident was found not guilty of Smith's murder, but was criminally liable on the lesser charge of manslaughter, Albury said: "F* dread."
Smith's partially decomposed body was found shortly after 2.30pm on December 21, 2015 at his St Alban's Drive apartment. Smith was a sports coach and was employed at Pictet Bank & Trust Ltd. He was also a former president of the New Providence Volleyball Association.
On the first day of trial, the jury heard that Albury allegedly had confessed to his relatives that he had fatally stabbed the banker, who had hired him to do a paint job at his apartment for an upcoming holiday gathering when the victim had made a sexual advance towards him.
The second day of trial, Smith's housekeeper testified that in the three months she had known Albury, the accused had been to Smith's apartment on three occasions and on two other occasions, the accused and Smith were seen in the victim's vehicle drinking.
The prosecution's final witness was forensic pathologist Dr Caryn Sands, who testified that the wounds to the victim, which included a slit throat, were unlikely to have been caused by a painting knife as Albury had told police when interviewed in custody 14 days after the incident.
At the close of the prosecution's case, Albury was asked by Senior Justice Watkins to indicate whether he would remain silent at his trial or elect to give testimony under oath.
Albury elected to take the stand and spoke of how his accepting a "compliments to the season" Hennessey drink from Smith when he arrived at the apartment before he started the job, spiraled into a scuffle and stabbing after the banker made a sexual advance at him.
When cross-examined, it was suggested to Albury that in his voluntary record of interview in police custody, he made no claim that Smith had made a pass at him.
Albury said it was shameful to speak about the alleged action, so he withheld the information. The convict also denied that Smith was running away from him. However, he conceded that Smith had no weapon.
Albury was asked why the chairs in the living room were overturned if the scuffle had occurred upstairs and Smith had collapsed at the foot of the stairs.
The accused said when he left Smith there, he could not say that he was still alive and that Smith might have overturned the chairs.
Albury conceded that he turned himself in with a lawyer 14 days after the incident. However, he claimed that he told his relatives what happened the day after and not December 29/30 as the jury heard.
Albury also conceded that he burned the clothes he wore on that day.