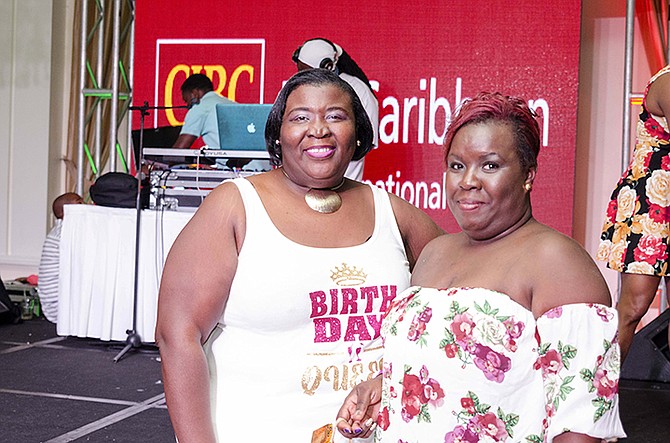 IN the midst of the fun and revelry of last Saturday's CIBC FirstCaribbean's "Soca Party for the Cure" cancer fundraiser, two sisters recounted the story of losing their sibling to cancer earlier this year.
Standing side-by-side, Jan Minnis and Nell Nairn remembered their sister Vernique Nairn and explained why they felt the need to support the event, which was organised to help raise money in support of the 6th annual CIBC FirstCaribbean "Walk for the Cure" campaign.
"We just wanted to be able to help somebody else, and at the same time have fun. And I thought, 'What better way to celebrate my birthday than remembering my sister? Last year was the last birthday I celebrated with her, so coming to this [event] is just a way to stay connected and remember her and her fight," Nell said.
Hosted by The Natural Empress and featuring music played by popular local DJs AI, Ming, and Bravo, scores of supporters showed up to demonstrate their support for cancer awareness.
For these three sisters, however, it was more than just a night of fun. On May 11, Vernique lost her battle with colon-gastric cancer, leaving two children, ages 5 and 17.
"She was unable to be diagnosed properly, so we never had a real opportunity to fight for her," Dorothy said. "She went to do a medical [exam] for a new job she got, and during that time she had some complications. One thing led to another until she ended up with a blockage and then they found out she had cancer.
"When it was time for her to receive chemo, we didn't know what stage she was in. So she took 12 rounds and after that she went back to work, just hoping that all would have been caught. It was a guessing game."
Lack of awareness leads many people to suffer the harsh effects of cancer unprepared. Andrea Sweeting, president of Sister Sister Breast Cancer Support Group, had this to say at a recent press conference to announce the launch of this year's "Walk for the Cure" campaign: "One of the big things we have to think about is not just the walk itself in October, but the awareness that the walk raises. It gets people thinking, 'Okay, it's time for me to get tested, to get screened.'
"I think that all too often people aren't getting screened early enough, and so part of this campaign is educating people about what cancer is all about, what you may or may not be susceptible to, and then working with the organisations that are providing screenings, etc."
Dorothy echoed these sentiments.
"Things like your mammogram and your pap smear - those are very important. If someone who had cancer was able to get those tests and get diagnosed early… I don't know, but maybe they'd have a better chance than [my sister] did. Because if she hadn't been sent for her medical, she may not have known until even later. So getting your regular check-up should help."
Through the 6th annual "Walk for the Cure" campaign, the team at CIBC FirstCaribbean aims to raise $100,000 this year. All funds collected will be donated to various cancer awareness and support organisations in the Bahamas.
The company has received support from many sponsors, including the British Colonial Hilton Hotel, whose team donated the event space for the soca party. The main "Walk for the Cure" fun run/walk will be held on October 1 in New Providence and September 30 in Grand Bahama, Eleuthera, and Abaco. Members of the public can participate in the walk by completing a registration form at any CIBC FirstCaribbean branch.
Registration fees are $20 for adults and $12 for children (ages 13 and under).
Anyone interested in becoming a part of these events can visit their nearest CIBC FirstCaribbean branch or contact Maya Nottage at (1-242) 302-6063 for more information.