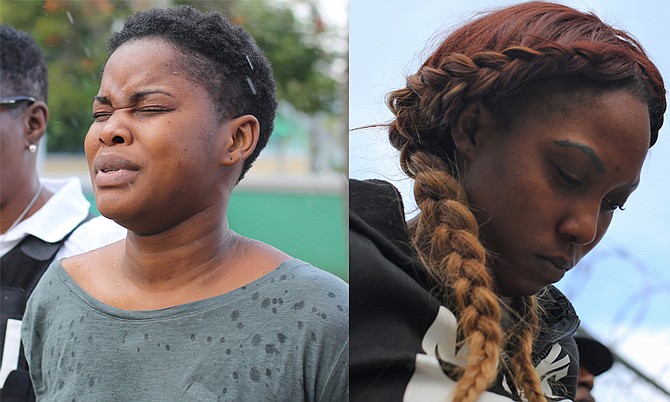 By NICO SCAVELLA
Tribune Staff Reporter
nscavella@tribunemedia.net
A Surinamese woman yesterday told a judge that she only attempted to smuggle cocaine into the country as a way to secure funding to house her displaced grandmother after their South American home burned down.
Nonetheless, Magistrate Jeanine Weech-Gomez told 23-year-old Nicole Akoela that her "flagrant lack of respect" for this country's laws on drugs warranted two years imprisonment and/or a $10,000 fine.
The same applied to Guyanese national Iesha Graham, who referred to the recent death of her mother and consequent duty to raise her teenage brother and sister as her reasons for attempting to smuggle drugs into the Bahamas.
Both Akoela and Graham were arraigned and subsequently sentenced in connection with the seizure of a quantity of cocaine in separate incidents on Tuesday.
They each faced one count of possession of dangerous drugs with intent to supply and one count of importation of dangerous drugs. They each pleaded guilty to both charges against them, though informing the court of their desire to offer an explanation for their actions.
According to police reports, shortly after 2pm on Tuesday, Drug Enforcement Unit (DEU) officers on duty at the Lynden Pindling International Airport (LPIA), conducted a search of a suitcase owned by a woman from Suriname, who had just arrived on a Caribbean airline.
During the search, the officers uncovered just over nine pounds of cocaine. The woman was subsequently taken into custody.
Then, shortly before 4pm, DEU officers acting on information, conducted a search of a hotel room located in the downtown area, where they uncovered just over nine pounds of cocaine hidden in a suitcase. A woman from Guyana who had arrived earlier on a Caribbean airline was subsequently taken into custody.
Before being sentenced, Akoela, with the assistance of a translator, told Magistrate Weech-Gomez that she smuggled the drugs in an attempt to make some money following the destruction of her grandmother's place approximately six months ago.
The Surinamese mother of two told the court that despite being employed as an administrator in a casino where she lives, things were still tight financially - she said she even considered sleeping with men and other things as ways to make ends meet.
In her attempts at securing more money, Akoela said she eventually met with an individual named Alvin, who allegedly told her that if she smuggled the cocaine he would provide a new place to stay for her 83-year-old grandmother. 
Akoela admitted to knowing the potential ramifications of committing such a crime, but did so not only as a quick way to acquire the funds she needed, but also because she was assured by Alvin that she would encounter no problems in her attempts at smuggling the drugs.
However, Magistrate Weech-Gomez said while she has the "greatest of sympathy" for Akoela, her children, grandmother and general circumstances, she found it "very difficult" to accept Akoela's actions.
She shared similar sentiments with Graham, stating that while she acknowledged Graham's plea for lenience and the mitigating factors of the matter, her dire circumstances should have further compelled her to "walk the straight and narrow."
They were both sentenced to two years at the Bahamas Department of Correctional Services (BDCS) and a fine of $10,000 for possession of dangerous drugs with intent to supply. Failure to pay the fine would result in an additional year at the BDCS.
They were also fined $10,000 each or two years at the BDCS for the second charge.
Both of their respective sentences are to run concurrently, the magistrate said. Upon completion of their respective sentences both women are to be turned over to the Department of Immigration.