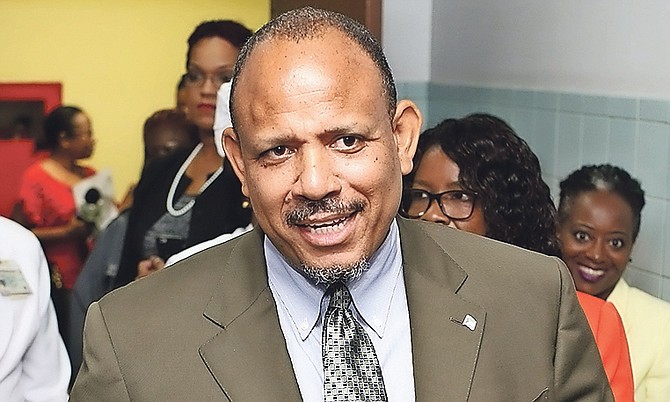 By RASHAD ROLLE
Tribune Staff Reporter
rrolle@tribunemedia.net
ABOUT 45 nurses were working for months without the salary and benefits full-time government employees expect, a predicament Health Minister Dr Duane Sands found "heartbreaking" and said he has moved to remedy.
Maria Butler, a 32-year-old mother-of-two, told this newspaper of troubles involved in affording even "basic necessities" while living off the $475 monthly stipend the government gave her and her peers during those months––a stipend that was often given well behind schedule.
"The majority of us have children," she told The Tribune yesterday. "Part of becoming a nurse was we've been trying to build ourselves for our families. It's been a struggle being on the mercies of people who wonder how we are going to work if we aren't being paid. They have been shocked and can't believe it. I would send my kids to school and a relative there would assist them because I had such problems."
When contacted by The Tribune, Dr Sands explained the ordeal the nurses faced.
"It's 45 (nurses) in total (that have had this issue)," the Elizabeth MP said. "One group is a group of 18. They passed exams, some in December, some in April, some in May. They graduated with a certificate in nursing. The total due to them from the time they graduated, inclusive of budgetary allowances, is $426,161.
"Another group of 25 nurses are owed $567,239 in salaries and uniform allowances. That includes arrears and budgetary allowances for this fiscal year. The problem is there was no budgetary allocation for these individuals or arrears from the time they completed their examinations despite the fact that they would've been assigned to various clinics."
Dr Sands said he has had to give assurances to some of the landlords and creditors of the women after they began to doubt the employment statuses of the nurses.
"The hardships these people have faced will break you up because this is not an issue with someone getting a contract to build a sidewalk to nowhere," he said. "These are people who were trained by the government and assured they had a job.
"They were being told the Department of Personal Records in the Ministry of Public Services didn't have a record of them. They were told by the nursing hierarchy to keep working, we'll make sure you get straight. Yet other people rolled up, no paper work but were getting paid."
Dr Sands said the problem the nurses faced is not out of the ordinary for the public sector.
"I wish I could say this was unusual but these kinds of human resource challenges are typical of the civil service. It's unusual only in the sense that you have thousands of Bahamians beginning to be added to the payroll without any references to dotting I's and T's but these people no one could suggest are not essential have had such troubles."
Despite the hardship, Ms Butler said the nurses love what they do and their morale for their jobs has not suffered.
"We still believe in providing quality healthcare but we are taking care and looking after the public while we are putting our children and our families on hold," she said. "It's not been easy. I literally have only seven more years to have a significant impact or impression on my son. Without being paid, my kids have had to sacrifice vacation and meaningful outings because I couldn't afford it. They often asked me, 'mommy when you start to get your salary can we…?"
The nurses included clinical and registered nurses.
Dr Sands said they will receive their arrears in portions, a process that should start in a few weeks.