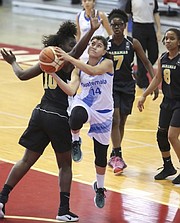 By BRENT STUBBS
Senior Sports Reporter
bstubbs@tribunemedia.net
IT wasn't what she expected, but head coach Varel Davis said her young team gave it their best shot, finishing as the sixth best team in the FIBA Under-17 Centrobasket Championship for Women.
Playing in their last matchup on Saturday in Aguada, Puerto Rico for their final position, the Bahamas suffered a 75-50 loss to Guatemala for sixth place. Guatemala took fifth place overall.
The tournament concluded with Mexico beating host Puerto Rico 83-77 for the gold, while El Salvador knocked off Costa Rica 56-41 for the bronze.
By virtue of their finishes as the top three teams, Mexico, Puerto Rico and El Salvador all qualified to compete in the FIBA Under-18 Women's Americas Championship 2018.
"I was very pleased with the performances. My goal was to go there and at least medal and be in the top three so that we could at least move on to the next tournament," said Davis, who was assisted by Terrance 'Red Eye' McSweeney and Deven Johnson.
"But we fell short, losing the first game. We tried to bounce back in the second and third games, but overall the performances were very good. This is a fairly new team from last year. We had about five veterans on the team and the rest were all new."
Davis, however, said the exposure and experience they gained from the tournament will only make them better in the future.
"We matched up very well against those teams, but we were not aggressive against them. We had a little butterfly in our stomachs that caused us to turn the ball over a few times. But overall, it was a good experience with a 2-3 record for sixth place. So I was happy with the outcome."
The Bahamas came out of Group B in third place with a 1-2 record, losing their opener 53-39 to Costa Rica and 99-35 to Puerto Rico in their third game. In between those two losses, the Bahamas got some consolation with a 86-69 win over Suriname.
On Saturday, the team played in the reclassification round, pulling off a 79-60 rout over the British Virgin Islands. However, against Guatemala, the Bahamas got outclassed in just about every category as they wrapped up tournament play.
Guatemala 75, Bahamas 50: The Bahamas failed to get any player in double figures compared to their opponents with four in their balanced scoring attack.
Centre Erin Williams came off the bench and was listed as the team's best performer in the game, scoring eight points in 18 minutes and 30 seconds as she connected on 4-of-6 shooting from the field. She also pulled down seven rebounds.
Forward Valencia Demeritte, by far the best Bahamian player in the tournament, had nine points with three assists, but she also had eight turnovers. Centre Bronte Riley also contributed nine points with six rebounds and three steals.
Forward Shaian James had five points and 10 rebounds, point guard Tanea Bowleg also had five points with four assists, three rebounds, three steals and three turnovers, guard Alana Pinder had four points with three steals and seven turnovers and both guards Denika Lightbourne and Diondrea Nixon chipped in with four points.
Other members of the team were guards Terrell Cox and Joanna Munroe and centers Ulrica Woodside and Michell Butler.
Lightbourne, by the way, was the smallest and youngest member of the team at age 12.
Point guard Luisa Enriquez led Guatemala with 19 points, four assists and two steals.
After posting a 14-2 lead at the end of the first quarter, Guatemala watched as the Bahamas out-scored them 19-16 in the second quarter to cut the deficit to 30-21 at the half. But Guatemala came out of the locker room and went on a 25-11 tear in the third to push their margin to 55-32 and they never looked back, out-scoring the Bahamas 20-18 in the fourth.
In the game, Guatemala shot 37.3-33.3 percent from the field, 36-0 % from the three-point line and 50-47.6 from the free throw line. They won the battle in rebounds 55-43; 23-13 in assists; 21-14 in steals and 6-3 in block shots. The Bahamas, however, had 32 turnovers compared to just 24 by their opponents.
Guatemala scored 16-12 points on fast breaks and they enjoyed their biggest lead of 27 points in the game. The Bahamas never led, but used their depth to out-score Guatemala 38-37 in the paint. Guatemala got the 20-18 edge in points off the bench and 33-16 in points from turnovers. They even had a 10-6 margin in second chance points and their biggest scoring run was 11 points, compared to eight by the Baham