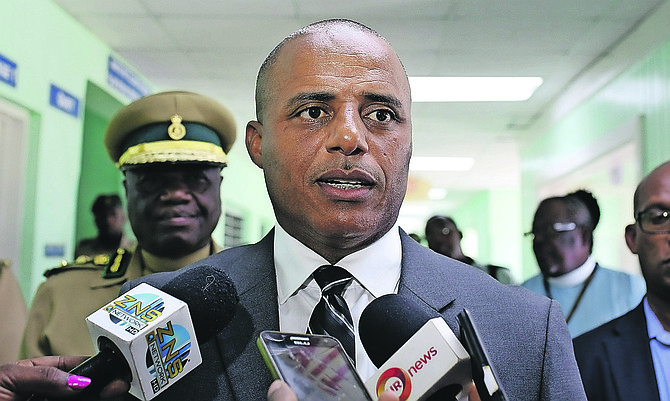 By RICARDO WELLS
Tribune Staff Reporter
rwells@tribunemedia.net
IN the face of rising homicides, National Security Minister Marvin Dames over the weekend presented a number of crime fighting initiatives, highlighting plans to clamp down on persons out on bail, firearm traffickers, drug houses and enhancing senior command at the divisional level of the force on a 24-hour basis.
0edia at a press conference Saturday evening at the Paul Farquharson Conference Centre, Mr Dames said effective immediately, the Royal Bahamas Police Force (RBPF) will "double down" on its efforts to combat violent crimes across the country.
Reflecting on the country's latest murders, Mr Dames revealed police will be taking a more aggressive approach to handling drug peddling and shutting down drugs throughout the country, which he referred to as "the source of many of the crime problems that exist."
The Mount Moriah MP also indicated that police will be increasing intelligence and operational efforts to identify and disrupt gang activities. More specifically, he said from an intelligence perspective there will be an increased focus on firearm traffickers with a view to bringing them to justice.

Mr Dames said: "The police have informed me that they have conducted a review of persons on bail who are not in compliance with their bail conditions. Further, they have discovered that more than 50 persons were not in compliance and they have already arrested a number of those persons and subsequently their bail was revoked.
"At present, there are 268 persons currently being monitored for various offences. Out of the 268 serious offences committed there are 70 for homicides, 18 for attempted murders, 102 for armed robberies and 59 for firearm offences."
He continued: "I will like to send a warning out to all those persons who continue to live a life of crime – moving forward we intend to make your life very uncomfortable. We will use every resource at our disposal to ensure that you are made to account for your wrongdoings. This is a promise."
Mr Dames added police intelligence has also revealed that a large percentage of recent homicides have occurred in what law enforcement refers to as "hot spots," specifying the areas of Pinewood, Kemp Road, Bain Town, Yellow Elder, Fox Hill and Carmichael Road.
Flanked by several senior officers on hand for Saturday's briefing, Mr Dames gave reporters a detailed look at crime figures, presented on an interactive map that highlighted the exact location of recent homicides.
Pointing to areas of concern, Mr Dames said police will increase vehicle and foot patrols and will be using all the technology available to them, including increased monitoring of CCTV and all of their resources to curtail these violent crimes.
Mr Dames said the efforts of police have already yielded some results, but admitted that more must be done, primarily he said, to improve technology and build capacity.
He later insisted that while efforts in tackling crime are static in many ways, strategies must also continue to be "fluid," as a means of addressing crime in all of its variations.
To that end, he said the government will immediately begin with the establishment of the National Crime Prevention and Neighbourhood Watch Council to grow community involvement in the fight against crime.
The initiative is expected to be commanded by Senior Assistant Commissioner Stephen Dean.
Mr Dames said the council will look to set up crime watch groups in every community and attempt to establish commonality and examine community prevention measures.
Additionally, Mr Dames said the council will collaborate with multi-government agencies and non-governmental agencies.
Moreover, the national security minister revealed the government will review the establishment of the RBPF to determine the requisite number of officers at any division.
Mr Dames said the government will also move to decentralise the Central Detective Unit (CDU), a move he suggested would place detectives at stations to readily respond to serious matters on a timely basis.
This was a strategy reportedly shelved by the Christie administration.
Mr Dames said the government intends to produce, very shortly, its legislative agenda which will have a number of crime prevention bills, including legislation to establish a National Anti-Corruption Agency and an overhauled National Intelligence Agency, among others.
Of the initiatives presented Saturday, Mr Dames said he doesn't expect an increase in the base shifts of officers or increase in work load.
This comes just days after the government was forced to back off plans to pay out the second instalment of overtime wages owed to officers this month.
Mr Dames said he is sure the senior command of the RBPF will be able to "make adjustments" to allow for these new initiatives to be effectively carried out.
He said despite limited resources, he is confident that police will be able to "get the job done" and, effectively, "bring an end" to many of the criminal elements plaguing the country.
Saturday's conclave came on the heels of the country's three latest homicides, all of which occurred over a 24-hour period, in or around areas highlighted by police.
Investigations into all three matters are continuing.