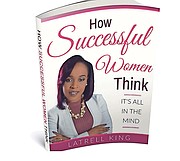 By ALESHA CADET
Tribune Features Reporter
acadet@tribunemedia.net
Bahamian author Latrell King has managed to have not one, but two of her books on Amazon's best-sellers list.
Her newest e-book entitled "How Successful Women Think" made it to number two worldwide for new releases, while her "A Mother's Tragedy" book placed number three in the category of bibliographies/memoirs.
In an interview with Tribune Woman, Latrell said with her new book she hopes to teach women how to be successful beyond the classroom.
"I want to expose the well kept secrets to success that we didn't learn in our school curriculums. What better way to do this than writing a book to teach women that it's all in the mind. Moreover, I want to inspire women that we all can be successful. A lot of women ask me how did I do it. How do I always seem to rise above life's setbacks.
"I always got that question from women older than I am. People always told me I inspire them, and so as a gift to my followers I wrote a self-help book with steps that will catapult them into the new era in their lives," said Latrell.
The book covers topics such as: eradicating unhealthy thought patterns; improving self-belief and confidence; speaking positively and purposely into your future; redirecting your life by taking note of personal goals, and changing and controlling your environment.
"If I had to do it all over again I wouldn't change anything. Simply because I wrote transparently and from real life experiences. One hundred per cent of my book is realistic and are steps I have applied and have seen amazing results from. I believe that if we can think it, see it, believe it, speak it and write it down, it will come to pass," she said.
"The book can be longer in the future, but for right now I believe that short reads are powerful and get the message across perfectly."
"How Successful Women Think" is available for purchase locally from the author via lewis.latrel@gmail.com, and through Amazon.com, Createspace, and Barnes and Noble.
"I have not had a book launch in the Bahamas as yet, but I plan to have one in late October. However, I had a book launch in Atlanta, Georgia this past Saturday at the APEX Museum where I sold out of my new book," said Latrell.