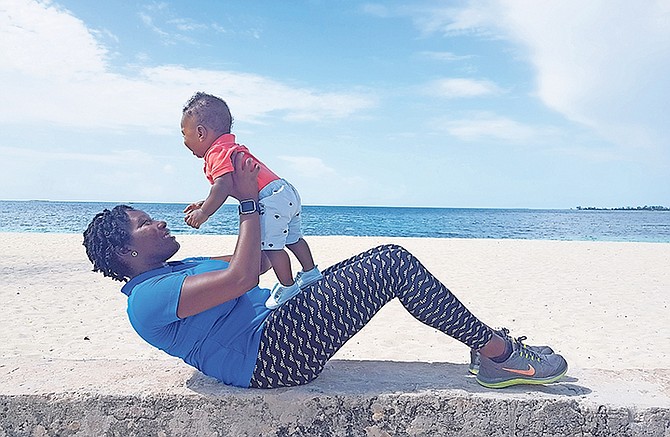 By JEFFARAH GIBSON
Tribune Features Writer
jgibson@tribunemedia.net
EXCESSIVE weight gain during pregnancy does not have to be a struggle for expectant mothers. Take Shaundra Sawyer, for instance, who only gained a total of 25 pounds before giving birth to her now eight-month-old son.
Shaundra's starting weight at the beginning of her pregnancy was 145 pounds. After giving birth and engaging in consistent breast-feeding, the new mother shed the excess pounds almost immediately.
"Most of it was fluid retention, and after breast feeding it continued to go down," she told Tribune Health.
Even though she is a health and fitness specialist at the Bahamas Medical Centre (BMC), Shaundra's challenges were no different than those of other moms-to-be. Keeping her pregnancy weight in check meant she to make a conscious decision every day to eat the right food and in all the right portions.
"Every woman is different and every pregnancy is different, but you don't have to gain a whole lot of weight during your pregnancy," she said.
"Some women say, 'I'm eating for two'. But that is only an excuse to overindulge. I always recommend that if an expectant mother wants to overindulge they should so on the right foods."
Shaundra said in addition to paying close attention to the kind of foods they are eating, expectant mothers can also benefit themselves and their babies by getting more active or doing low-impact exercises.
"(You) can walk for every day for half hour, swim, or walk in the water," she said.
To help women get in shape and stay on track, the BMC is getting ready to launch its Mommy and Me Workouts for pregnant women and those who have recently given birth, together with their child or children.
These workouts can begin when the baby is still in the womb, helping the mother to strengthen her pelvic floor muscles and increase flexibility during pregnancy in order to prepare her body for labour.
Post pregnancy, Mommy and Me Workouts are designed to regulate changing hormones to prevent postpartum depression.
Mommy and Me Workouts are held at BMC on Blake Road on Mondays and Wednesdays from 12pm to 1pm.
Opportunity
The focus of the class is to give mothers the opportunity to remain active without having the stress of finding someone to watch their child while they go to the gym for that one-hour workout.
"For women who had a natural birth I encourage them to let their bodies heal first for six weeks and then afterwards they can begin an exercise regimen.
"They can introduce their bodies to light exercises and build up from there," she said.
Mommy and Me classes, Shaundra said, are an excellent opportunity for mothers to not only bond with their children but to ignite a desire for their children to become physically active from childhood to adulthood.
"We encourage them to bring their babies to class because they can use the baby's weight for some exercises. We will also uses strollers, carriers and a carrier bag in the classes, too," she said.
Some benefits from participating in Mommy and Me Workouts at the BMC include increases in muscle strength and motor development, improvements in mood, enhancement of social awareness, a boost in language development in children, and the opportunity for mothers to make connections with others.
For more information about the classes, contact Shaundra at 302-4634 or e-mail her at ssawyer@doctorshosp.com.