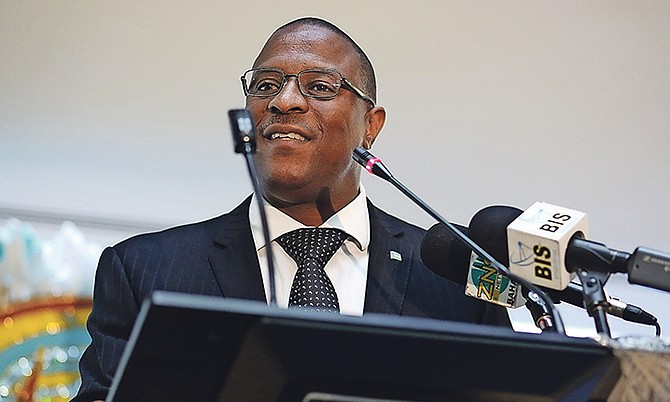 By RASHAD ROLLE
Tribune Staff Reporter
rrolle@tribunemedia.net
THE Minnis administration is considering treating Bahamas Junkanoo Carnival "like any other event," one where Bahamians interested in hosting it can approach the government and perhaps secure "some kind of subvention or assistance" to do so, Youth, Sports and Culture Minister Michael Pintard said yesterday.
"We would evaluate all proposals inclusive of those that might end up having carriage of carnival," he told The Tribune on Monday.
"That's why we have been looking at the option of privatising it. Carnival might well become something significant in the Bahamas over time but that certainly will not be because the government is investing the kinds of resources our predecessors did."
Mr Pintard was responding to questions about the status of the Bahamas National Festival Commission (BNFC), which has organised and managed carnival in past years.
Contracts for members of the BNFC expired recently, Mr Pintard confirmed, though he said the commission has not been disbanded. The Tribune understands that no more than about five people had contracts through the commission. 
The government has not repopulated the commission and is instead conducting an audit of its affairs to determine how best to use it moving forward.
While the commission has been known mostly for its responsibility for carnival, the Minnis administration, Mr Pintard said, wants it "to administer all festivals."
"Presently, as the public is aware, as the prime minister has mandated, an audit of all government ministries and quasi-government agencies is being done, including of the commission," he said. "The second thing that is happening is an audit of the inventory held by the commission. Consultations are going on with persons who have been involved with the commission in the past. Those will continue over the next couple of weeks. We are defining the role of the commission going forward. One of the long standing objectives of the FNM has been a desire to develop and promote the Bahamas as a place of festivals and to put together a master list of all festivals throughout the country. The commission might turn out to be the appropriate vehicle to oversee and administrate this process of developing the Bahamas as a place of festivals. Based on what we have seen, we intend for the commission to function differently from what it has been.
"It would've been imprudent for us to disband the commission on day one when the people have invested what we believe amounts to more than $25m through it. We are obligated to see if there are ways to recuperate funds invested."
In opposition, the Free National Movement  repeatedly criticised the Christie administration's investments in carnival, stressing that the resources could have been directed elsewhere, especially to Junkanoo the country's premier festival that occurs on Boxing Day and New Year's Day.
However, carnival has been popular with many Bahamians, attracting large crowds since its inception.