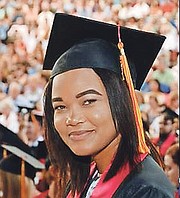 By DANIELLE BARNES
Many young Bahamians decide to study abroad with dreams of returning home one day and becoming a catalyst for change.
For Whitney Glinton, attending Flagler College in St Augustine, Florida, opened her mind to the possibilities of making changes in how we protect the Bahamian environment.
Whitney is one of only a few young Bahamians who make the brave choice to get a degree in a more obscure subject.
Majoring in Coastal Environmental Science was not what she had envisioned before leaving for school. After graduating from Queen's College, she entered Flagler College with the intent to study Sports Management. Little did she know that she would ultimately choose an entirely different direction.
Studying abroad came with several obstacles for Whitney. Due to financial constraints she was forced to drop out of school twice. But despite these setbacks she worked hard to return to school and remained set on her goal to graduate with honours.
With the objective in mind to get a Sports Management degree, Whitney dreamed of becoming a sports agent or sports lawyer. However, during the Fall semester of her freshman year she enrolled in an Environmental Science class that would soon change her plans.
This class sparked an interest that Whitney never knew she had.
"It spoke to me, and the prospect of why aren't we aware of certain issues that are going on in the world and why isn't anybody trying to fix it, or why isn't anybody looking into these things more like they really should be," she said.
Whitney was given a lab assignment for the course which uncovered her hidden talents. Students were sent out to find their own projects and report back to the class. At the end of her report, she was given a perfect score - a first for a freshman taking the course. Her professor soon pulled her to the side and persuaded her to switch her major to Coastal Environmental Science.
"She asked me what my major was and I told her Sports Management," Whitney recalled. "She tried to convince me to switch over to Environmental Science because she felt like I would excel in and enjoy the field."
Whitney did not need much convincing, and before she knew it she was on her way to becoming an environmental scientist.
"I never thought I would be the person that was interested in science, but it's actually what I'm truly passionate about," she said. "You'll never know where you will end up without trying something different."
Whitney recently graduated from Flagler College, winning the prestigious Natural Science Departmental Award for the highest grade point average in Natural Science in her graduating class.
What Whitney loves most about Environmental Science is that it enables her to make a difference in an area that is not often addressed in the Bahamas.
"With this major you contribute as you go along to the scientific community.
"You feel as if you're making heads raise by changing things in your life that you didn't know could be harmful to the environment," she said.
Whitney now encourages other young Bahamians to focus more on the environment and to lend a hand in preserving the beauty of our islands.
"I think the Coastal Environmental Science programme is really good for especially young Bahamians to hopefully go and look into, and hopefully decide to major in it, because we really learn a lot about our own country, things that we should have been taught in high school," she said.
"We don't know a lot about beach erosion or how to mitigate that, or that the queen conch is severely endangered, because we don't see these things that are going on behind the whole rush of everyday life."
Whitney's next goal is to attend grad school. She is also excited to return home to work with local organisations that will help get the word out about enforcing the country's environmental policies.