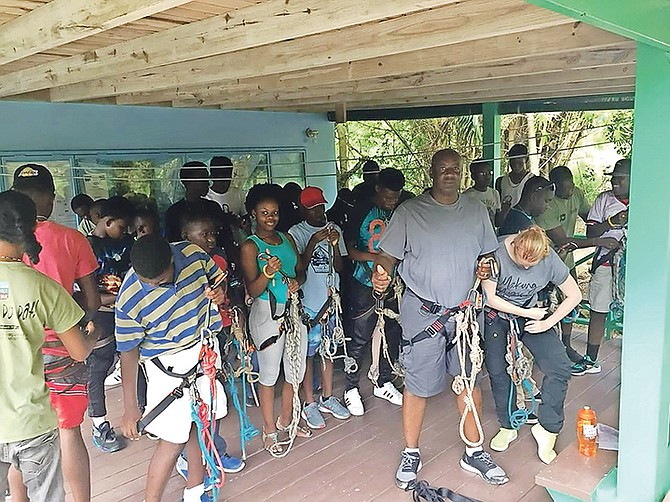 WITH all the negative news surrounding the state of young men in the Bahamas, The Boys' Brigade is committed to its mission of developing boys into Christian men who are upstanding citizens.
This past July, a Bahamas contingent travelled to the organisation's Caribbean International Camp in Antigua. More than 14 Caribbean countries were represented, as well as Zambia and Denmark. The two-week camp was filled with sporting activities, arts and crafts and outdoor pursuits.
Twelve-year-old, Shane Oliver, a student at St Augustine's College and Boys' Brigade member for the past four years was a participant.
"Boys Brigade can take you across the world," he said. "I met people from Denmark and Trinidad and Montserrat."
About the various activities, the youngster said: "We went hiking and zip-lining, visited stingray city, a nature park and the beach. There were drills and group competitions and training in first aid, nutrition and outdoor survival skills."
Additionally, Bahamian Boys' Brigade captains Ekron Pratt and Fernley Palmer were honoured for their long service to the organisation.
Captain Henry Curry, chairman of the Western Caribbean Regional Fellowship and leader of 23rd Company based at St Barnabas Anglican Church, said: "It's important for our boys to travel and connect with the wider Boys' Brigade community. Activities like these allow for both the boys and the officers to better understand how the organisation is making a difference in the lives of so many across the world."
In addition to the regional camp, Boys' Brigade had a busy summer. The New Providence Battalion held its annual Men & Boys Conference in June. Captains and officers of the New Providence battalion companies participated in the Ministry of Youth leaders certification course, and boys from different companies within the New Providence battalion participated in the Commonwealth Youth Games opening ceremony. A number of boys have also been recognised for their academic and sports accomplishments this past year.
"Boys' Brigade serves the community as a guide to young men on how to grow up to be well-rounded citizens," said Captain Jamicko Forde, long-time Brigade member.
"As the only interdenominational organisation focused on the mentoring of boys across the Bahamas, Boys' Brigade offers a safe, structured environment, balancing strong leadership, life skills, Christian principles and fun," said Captain Forde. "This mentoring is exactly what the Bahamas needs."
Boys' Brigade begins its registration for the upcoming school year in September. Interested parents can contact the various companies: 1st Wesley Methodist, 4th St Agnes, 13th St John's Native Baptist, 14th Zion East Street, 15th Bethel Baptist, 21st Mt Moriah, 23rd St Barnabas, 30th Abundant Life, 50th New Destiny Baptist and 55th First Baptist. Boys' Brigade companies are also located on Grand Bahama, Hatchet Bay Eleuthera and Inagua. Application fees and dues are nominal and vary by company.