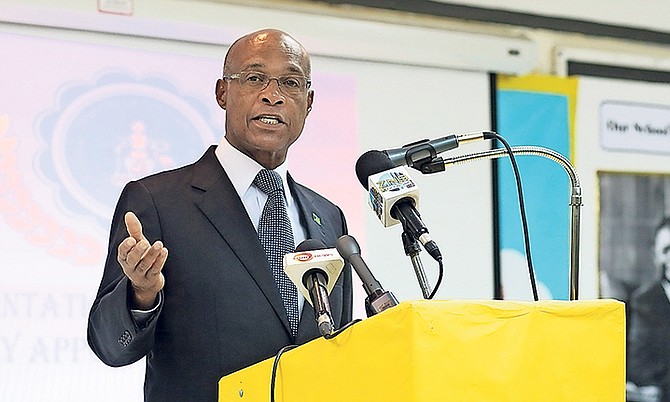 By SANCHESKA DORSETT
Tribune Staff Reporter
sdorsett@tribunemedia.net
EDUCATION Minister Jeff Lloyd pledged yesterday to increase the salaries of teachers "to match the role educators play in society" as well as provide scholarships to instructors seeking to obtain master's degrees and PhDs.
Addressing newly appointed teachers at an orientation exercise at Uriah McPhee Primary School, Mr Lloyd urged teachers to "help me help you" as he assured them that whatever he promises them, he will deliver.
Mr Lloyd also said the government hopes to extend its pilot programme of equipping pre-schools with electronic tablets throughout the country within a year or two. He also said his ministry is in the process of revamping the current curriculum to lessen the number of classes students are required to take.
"We are going to capacitate the Professional Development Institute, so that you will and continue to be equipped with the required skills and supplies to do an effective job. I invite you to go on to get your master's degree and PhDs and I promise you that the Ministry of Education is going to make the resources available so you may do so," Mr Lloyd said.
"Today the scholarship mindset is 'Let us give scholarships to those entering for the first time, maybe here or there we will give the master's degree but hardly ever a PhD and that cannot be intelligent, that cannot be a smart application of our resources.
"No, sir. We want people to continue on with their master's and want them to continue on with their PhDs and teachers are at the forefront of that consideration. I will help you to do so...I am an educator and we have lived with the expectation that because you are doing God's service you should be satisfied with menial, small salaries. Lies. The devil is a lair.
"We like to talk about the importance of education and please understand it's important. Well I invite this country to put its money where its mouth is, if we consider education to be important then let us pay the professionals what you deserve and that will change. I will help you with that."
Mr Lloyd also said within two years, he hopes to have hand held devices in all pre-schools in the Bahamas.
"We have to rethink education," Mr Lloyd said.
"So we are going to introduce this year, iPads and tablets or handheld devices in a selected number of pre-schools. Right now, we have 340 in the test programme and our intention is to have all other preschools equipped with these iPads within a reasonable period of time and I hope that that can happen within the next year, certainly within the next two years. "The point is that technology is crucial. We are going to make that a priority in the Ministry of Education because that is where the world is today.
"I am happy that our team is already working on reformation of curriculum, look more closely primary schools where they are overwhelmed with the number of subjects they must address. Children are not playing enough, I am not telling you to let children run wild in the yard, even though there is a place for that but in a properly controlled supervised environment, children learn through play that is their method of understanding the world."
On Sunday, Mr Lloyd said the Minnis administration plans to build at least one new school in southwest New Providence this term. He also said his ministry is looking into several public private partnership strategies to plan and construct new schools.
Once finalised, the government will enter into "25-year, lease to own agreements" with private entities for several proprieties.